Do you want to buy backlinks? Buying "high PR" backlinks could turn out to be a very bad idea if it is done mindlessly. Most people tend to buy backlinks for search engine optimization (SEO) purpose. Having more such links tend to increase a website's search ranking. However, poor backlinks can be as damaging as quality backlinks could be a boon. We highly recommend that you be very careful while getting paid links to your website. In fact, we discourage buying backlinks and it would be a much better approach if you entirely focus on producing high quality content on your website. Quality content gets quality links —  and that too for free! Take our example, TechWelkin has never carried out any link building mission. We have never paid for any link. We do not have thousands of backlinks but whatever we have are of good quality. Good quality content, references and links. And the result is that TechWelkin is a very popular and reputed website.
A lot of people toy with the idea of acquiring backlinks, especially when their websites are not performing well. The question people ask is where to go for good quality links? In today's article we will discuss a few websites where from you can get backlinks but, nevertheless, it is completely on your own discretion to get only good quality links.
Pros and Cons of Buying Backlinks
It is a well known fact that search engines give backlinks a lot of importance — so much so that backlinks could easily be called the true currency in the SEO and web-mastering field. If a larger number of websites will connect to you website, search engines like Google will believe that your website hosts good quality material and other people trust your content. The process of link building can be expedite if you purchase links. While you pay for links, you must remember the following:
Link must be from a reputed website
Linking website must not host adults-only content
Do not buy links from gaming, lottery or casino sort of websites
Link profile of the linking website should also be of good quality
Linking website should be of the same niche as that of your own website
The linked content should be relevant
Linking website should have reasonably good Domain Authority (DA) and Page Authority (PA).
Although PageRank (PR) is no longer an important signal of the importance of a web page, it still gives and idea about what Google thinks of that web page. Higher the PR, higher the quality.
If you can purchase links that satisfy all of the above suggestions, you may go ahead. Such link acquisition will certainly boost your website traffic.
However, if you end up buying low quality links, well, then most certainly your website will be penalized by Google and you will lose whatever traffic and reputation your website had before such link building exercise. Google discourages buying and selling of links. So, be careful… very very careful. And do not get into sale or purchase of backlinks if you don't fully understand the complexities of this matter.
Now let's look at a few websites where you can buy backlinks.
This website offers a wide range of links — from PR1 to PR8 (with Domain Authority of 40+). They say that the cost of one link starts from just $1 and it increases as the quality of link goes up. The website offers a number of case studies, all of which say that their customers were able to go up in top 10 of Google search results within small period of time.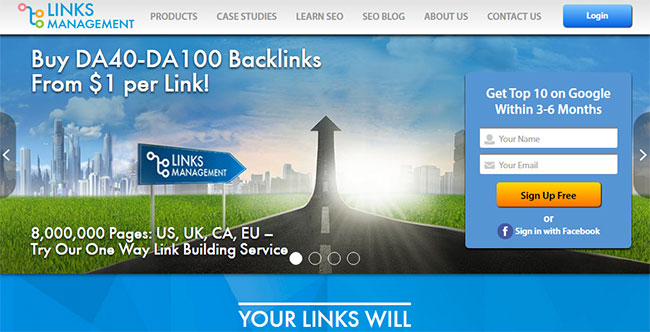 A top ranking website in the business of buying and selling links. If you have a good website, you can even sell links on your website and earn online money from it. This website is a marketplace both for buyers and sellers. They charge you on the basis of MOZ Domain Authority of the website where you want to buy links. Higher the MOZ rank, higher would be the charges for a link. This is a strong indication that PageRank is no longer a solid criteria to judge the importance of a web page.
Among payment methods, this website allows you to pay by credit card, debit card and PayPal.
This website acts as a text link brokerage and allows webmasters to buy and sell text links. For buyers, PostLinks offers "renting of links" as well as buying permanent links. For renting links you would need to buy their monthly link membership. With this membership you receive some credits. With these credits, you can rent certain links and later, if you want, you can remove those links and reuse the freed credits to rent some other links.
If you don't prefer to take monthly membership, you can always go for permanent backlinks. If you buy a permanent backlink and your link gets removed, the website also offers the facility to replace that link. As replacement, you will get a link on a website with comparable Domain Authority.
First of all, you should know that this website's name indicates unhealthy SEO practices (aka Black Hat Tricks). We can not advise strongly enough that you should stay away from dirty tricks. You must not attempt to raise your search rankings by doing unscrupulous things. You should be careful while looking for backlinks, not only from this website but from anywhere else.
They recommend that you should buy links in batches and slowly build your link profile. They offer links from blog comments, wiki sites and web 2.0 websites. They sell links in bunches of hundreds which include both dofollow as well as nofollow links. Recently they have begun to offer the social signals as well.
The above mentioned websites are services that specialize as marketplace for backlinks. But if you want to do manual link building and you do not have enough time to do it yourself, you can get help from places like Upwork and others. Here you can post your requirement that you need a professional to help in link building. Someone who has experience in such work, may accept your job offer. You pay that person and s/he will do manual link building stuff on your behalf.
So, dear bloggers, these are some of the best websites for buying backlinks. Just like we did at the beginning of this article, we would like to reiterate that you should buy backlinks only if you know the associated nitty-gritty very well. Practice of buying links, if done correctly, can be boost to your website. But if not done cautiously, it can be equally problematic.
Should you have any questions or suggestions in this regard, please feel free to ask in the comments section. We will try and assist you. Thank you for using TechWelkin!