More often than not we find ourselves in a situation when we wish to have a few pages in an MS-Word document in landscape format. Big tables, graphs and images sometimes don't fit into the portrait layout –but when we try to change the layout to landscape, MS-Word applies changes to the the entire document. Here is the solution to this problem:

Place the cursor at the beginning of the page which you want to convert into landscape layout
Go to Page Layout menu > Go to "Breaks" menu (marker 1 in above image)
Select "Next Page"
MS-Word will insert a section break at the position where your cursor was blinking
Now again place the cursor on the page you want to convert
Go to Page Layout menu > Pop-out the "Page Setup" group of options by clicking the tiny arrow appearing on the right-bottom corner (marker 2 in above image). The Page Setup box will appear.
In this box, select Orientation as Landscape and select "This Section" from the "Apply to" list (see the image given below)
You will see that the page has turn into landscape but rest of the document is still in portrait layout. You can repeat the above steps for changing the layout of any other page.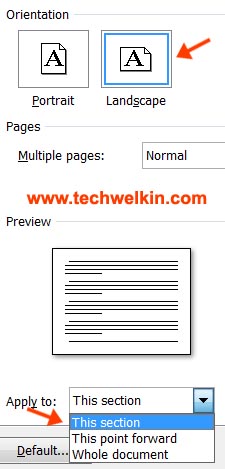 NOTE: This article is part of our MS Word Guide. This guide solves your day to day MS Word problems. Easily!