You love to tweet on various issues and also comment on other tweets and love to follow a few others. However, like most of us you do not like spams, bots, self-promoting posts, or maybe just general unpleasant interaction from another Twitter user. How do you handle such issues? One thought that comes to mind is can I block a Twitter user? Yes, you can. You can block a Twitter account to stop receiving unwanted posts.
This article will help you learn how to block and unblock a Twitter user account, the impact of blocking a user and alternate options to prevent a user from following you.
Block a User on Twitter
You can block absolutely any user on Twitter website or from the Twitter mobile app. Here is what you need to do.
Open a tweet from the user you want to block, click the down arrow and from the drop-down menu click Block @username and confirm to block
Alternatively, you can go to the user's profile. Click on the Gear or Settings icon next to the Follow button and from the drop-down menu, click Block @username and confirm to block.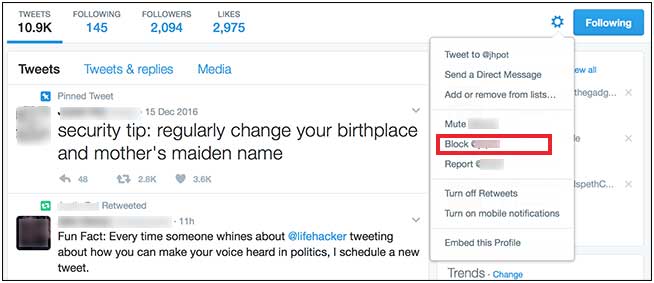 Block a user from the Twitter app
The process to block a user via Twitter app is the same, irrespective of whether you are using an iPhone or Android phone.
Open the tweet from the user you want to block, click the down arrow and select Block @username from the drop-down menu and confirm to block. OR
Open the user profile to block, click the Gear or Settings icon next to the Follow button and select Block @username and confirm to block.
What happens to a blocked account on Twitter?
Blocking anybody on Twitter is indeed simple. But what happens when you block a user?
Blocking a user restricts him or her from following you from their blocked account. If the blocked user tries to follow you, he or she will not be able to do so, and Twitter will display a corresponding message "You have been blocked from following this account at the request of the user" Twitter does not send notifications to users who have been blocked.
If you are following a user and the user is also following you, but you decide to block the user, then Twitter will automatically remove the user from your followers and your account will automatically be removed from that user's list of followers.
If you have a public account, the blocked users will be able to see your Tweets and other information even without logging in. So, do lock your account. Remember when you block a Twitter user; you block that account, not that person. The blocked user can always create another account to continue harassing you. If such a situation ever arises, lodge a complaint against the user.
How to Unblock a User on Twitter
If you decide to unblock a user anytime, it is simple:
Go to the blocked user's profile on Twitter.
Click the Blocked button
Click Unblock on Twitter for iOS, and Yes on Twitter for Android and confirm to unblock.
Is Blocking the Only Solution?
Blocking is not the only solution. There are two other friendlier methods of preventing a user to follow you on Twitter.
Make your Twitter Account Private
You can prevent people from following you on Twitter without blocking them. For this you can make your Twitter account private.  When your Twitter account is private, no one can follow you without your approval. If you do not approve their follow request, they will not be able to see any of your tweets. It is better than blocking, right?
To make your account private go to your Settings page > Privacy and Settings and select the appropriate option. The options are intuitive; select the one that meets your requirement.
Muting an Account
Blocking is ideal when you want to put a stop to all communication between you and a particular user. However, if you simply do not want to be bothered by a particular user's tweets or replies, and not keen to end the relationship permanently either, simply mute them.
To mute an account, click the Gear or Settings icon on the profile and select Mute @username. Muting has no effect on directing messages. Therefore, the muted user will be able to follow you, see your tweets, and even reply to you. If you are following the user, you will not see any of their tweets in your feed or their mentions in the notifications.
SEE ALSO: 30 Safety tips for women on Facebook
Blocking an account is always not the ideal solution. Use the above mentioned two options to prevent being followed or receiving replies. Blocking becomes a necessity when following becomes harassment. For your own safety, it is better to be cautious, manage your privacy settings, and do not share personal information. Following these simple rules will definitely enhance your Twitter experience.
Coming Soon, new Twitter feature called SafeSearch
While we are discussing safety on Twitter, here is the latest update from Twitter.
Twitter announced on 7th February 2017, that is expanding efforts to protect its users from abuse and harassment, the latest milestone in a broader, growing corporate campaign to crackdown on online hate. The company is going to implement a new feature, SafeSearch in the coming weeks. The SafeSearch results will put the irrelevant and abusive tweets at the bottom of a thread. Twitter has failed to address hate and abuse on the site, though it is barred under the terms of service of internet and social media companies. The high profile trolling campaign during the recent US Presidential election thrust the issue to the forefront. [Source TOI]
Should you have any question on this topic, please feel free to ask in the comments section. We at TechWelkin and our reader community will try to assist you. Thank you for using TechWelkin!