This article is for all the music lovers by a music lover who love to download music from Internet. These days most mobile network provides high-speed data mobile Internet and Wi-Fi network too is easily available around us. Downloading your favorite stuff from the Internet has been so easy. Same holds true for downloading music from the Play Store, App Store and some from other reliable sources. There are several popular and free apps available that can be used to download songs from various sources. Today, we will tell you about the best apps in this category.
1. 4shared Music
4shared Music is an app that helps you to download and listen to other users' music and share your own. The app also offers 15GB space to upload your favorite songs and stream them on the go.
You can access music from other users who have uploaded songs into their accounts, and they too can listen to music uploaded by you. It allows you to share your musical tastes with more than 12 million other users of this platform. It is not available on the Play Store but you can download from the link given above.
A must download for music lovers and it is free.
ALSO SEE: Free Download Music Library Managers and Players
2. SuperCloud Song MP3 Downloader
SuperCloud Song MP3 Downloader allows you easily download thousands of songs to your Android device. You can enter the name of the artist, the album, or the song name that they are looking for in the search bar and within seconds, the app will show you a wide range of results. You can then start to download any song by clicking on its name. You can stream the songs and even see the album cover art that corresponds to each song while you are listening to it. It supports Android 2.2 and higher versions. This app too is not available on the Play Store.
3. Wynk Music
Wynk Music app is ideal for Hindi music fans and available on Google Play Store and App Store. With this app you can easily download old and new Bollywood songs. It also includes tracks from famous international artists.
You can use the app as a player, to stream songs and for creating your own playlist.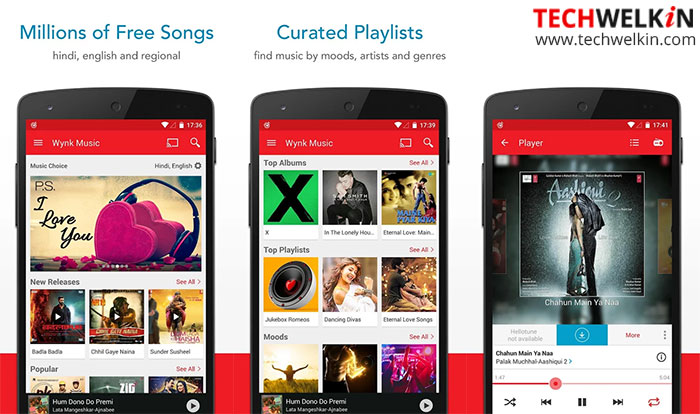 4. iTube Music
Download iTube Music from the Play Store. You can stream songs perform a search based on Genres, artist or tracks. The app is free and with its huge database, you are sure to find and download all your favorite songs.
5. Napster
The plus point of Napster is that it is Ad free.
It allows you to listen to your favorite music without interruption and download unlimited songs and playlists to play offline. You can also find fellow music lovers on Napster with similar tastes.  You can opt for a free 30-days subscription from Google Play. Later you can buy the app or cancel the subscription.
6. Simple MP3 Downloader
Simple MP3 Downloader is a very easy to use song downloader app that allows you to search for your favorite music by genres, artists or albums. When you find your favorite songs, you can download them in mp3 format. The auto-completion feature suggests various artists or songs of possible interest as you start to type the search query. Since it is not available on the Play Store, you need to download the Simple MP3 Downloader apk file externally and install it on your mobile.
7. Google Play Music
Google Play Music is one of best ad free android app to download free music. You can use the app to find and subscribe to the podcasts.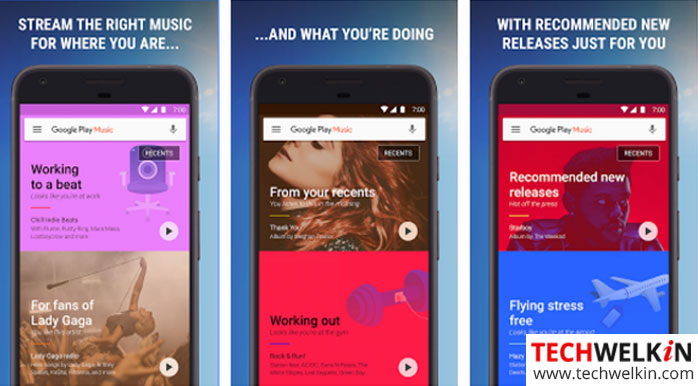 The Smart recommendation feature recommends songs as per your choice and matches genres of songs that you generally listen to. The app allows uploading of 50,000 songs of a personal collection and cache songs to listen offline. Even if you do buy the subscription, you can listen to free music.
8. Free MP3 Downloads
Free MP3 Downloads is a simple app for downloading music. It allows you to search by artist or album name or any song name — and it quickly provides a direct download the song.  Since the artists give their music for free, it does not include commercial music. If you perform a search for songs based on genre, chances are you may find some good tracks of your choice.
9. Music Download Paradise MP3
Music Download Paradise MP3 is a free music downloader. You can search and type the key words of the song, artist or album.
You can find your favorite song and play it online, or download the song file on your Android device. After download, you can use your default music player to play the song.  You just need to refresh your music library to listen to music that procured from other source without having to move the files.
10. RockMyRun – Best Workout Music
If you are a fitness freak, RockMyRun will freshen up your mind and help you to get in shape.
The app offers a collection of DJ-mixed playlists for workout soundtracks and more. You can download or cache the tracks for offline playback. It allows you to synchronize your heart rate to filter a playlist that suits your workout's state. The My Beat feature automatically creates playlist to match your workout style.
With the above-mentioned free apps you can now download, stream or just listen to you favorite music to your heart's content. So which have app have you decided on? Feel free to share your experience with us.
Should you have any question on this topic, please feel free to ask in the comments section. We, at TechWelkin and our reader community will try to assist you. Thank you for using TechWelkin!