Locating and deleting duplicate files on your computer is one of the most tedious tasks that we all love to "schedule for tomorrow" but tomorrow never comes! We all fear doing the comparison of files based on date, time, content, size etc. to ensure that we are deleting the correct duplicate file. This process can be very taxing. However, there are tools available for free or at a small price that efficiently locate all the duplicate files you may want to permanently delete. It's a good practice to delete the duplicate files for saving storage space and better management of files.
This article will list out some of the most popular and efficient duplicate file finder tools. You might come across mixed views for each of the tool. However, unless you use them personally you will never know if it was worth the try.
IMPORTANT NOTE: You should not use these tools to delete the duplicate files found in the Windows and Program Files folders. For efficient functioning of Windows operating system and other programs, the system may need these duplicate files in different locations.
Auslogics Duplicate File Finder
Duplicate File Finder searches for identical pictures, documents and other file types. It compares the files by names, their content, and helps delete them to significantly increase free space on your disk.
It is an easy to use tool:
Select the drive or the folder you want to scan and choose the file types that you want to search. By default, the tool will search for images, audio files, video files, archives, and applications. However, you can select one or more file types you want to scan.
On the subsequent screen, you can filter the scan and choose to ignore the files that are smaller than 1 MB or enter a specific file size to ignore during the search. Searching for duplicate files larger than 1MB leads to fewer matches but a faster scan. It is good to search for larger files and delete them first.
After the result is displayed you can decide on the action that you want to take.
You can view the previews of the duplicate files or filter it based on date, size or type to narrow down the result further and click Delete Selected Files to send the files to the Recycle Bin.
While using the tool I had my share of issues. After installing the latest version, I realized that it installed with other bloatware as well. It did not allow me to exit the screen, and kept prompting to buy other software.  The first time it did not show any scan results. However, after re-installing, the tool was able to search for the duplicate music files. I also came across reviews similar to mine, while some other people did not encounter any issues whatsoever. So, you guys out there, try it out and share your experience with us.
CCleaner
CCleaner is the most popular tool because the free version includes the junk file remover and the duplicate file finder. CCleaner looks for duplicate files on your C drive and ignores the hidden files and the system files. You can perform a search on a selected folder and its sub-folders. You can also filter using size, date, content, name etc.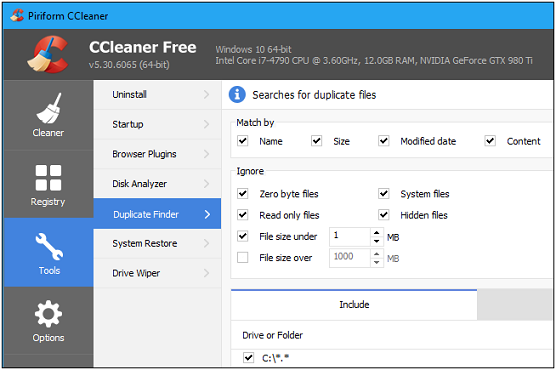 The tool comes with a simple interface. It does not include preview options for the search result but allows you to select the files to delete and also save the search results in a text file.
To start using Duplicate Finder, launch CCleaner and click Tools > Duplicate Finder as displayed in the above image.
SearchMyFiles
SearchMyFiles is an advanced application with customizable filters. These filters can search for files created, modified, or accessed between specific dates and time that you specify. This utility works on all versions of Windows – from Windows 2000 to Windows 10 and supports 32-bit and 64-bit systems. It is portable, and you can use it from a USB flash drive and does not leave any trace in the Registry of the scanned computer. You can save the search result list or the selected file list as a text/html/csv/xml file, or copy the list to the clipboard.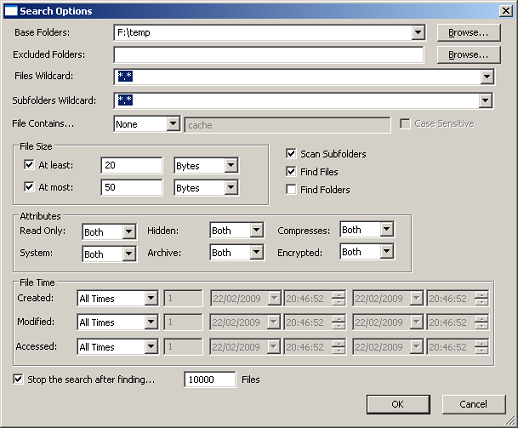 Launch the tool and in the Search dialog select Duplicates Search from the Search Mode drop-down option.
Select the folders and sub-folders and perform a search for duplicate files. Most options on the Search Options dialog are intuitive.
The search lists duplicate files arranged into groups. You can select the files that you want to delete.
Duplicate Cleaner
Duplicate Cleaner has a simple interface that makes it easy to search for duplicate files. You can narrow your search by file type, size, dates and more. You can specify the drives and folders to look in, and search in the Zip archives. It also includes a Selection Assistant to help you select files by groups, dates, drives, folders etc.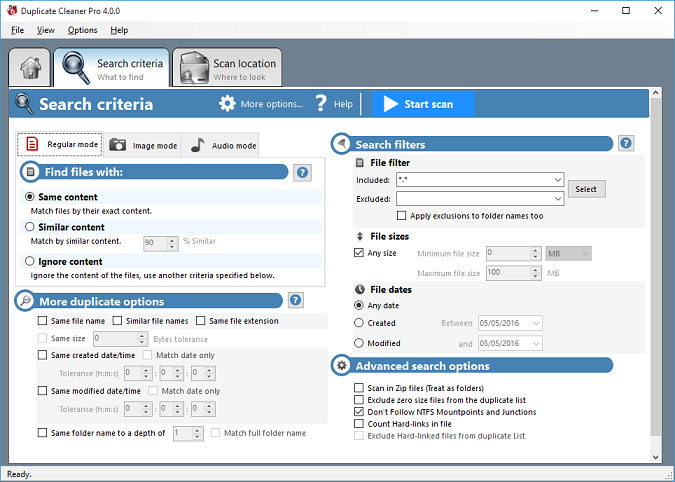 This tool allows you to save Scan Profiles and recall different settings for different jobs. After a search, you can delete the duplicate files, move, and copy or rename them. Like most other file finders, this tool too ensures that the system files are safeguarded.
The tool has a built-in image browser that allows you to view the pictures in the duplicate group side-by-side to compare the files. You can also scan and compare audio files.
You can download the evaluation version to check if it works for you before opting for the Pro version.
Besides the tools listed above, there are many others that we are listing below. Choose the best tool that meets your requirement.
Easy Duplicate Finder – finds duplicate files and supports advanced search method, fast search, preview files, and protects system files and folders.
Duplicate Files Fixer – a simple tool that scans and detects duplicate files and auto marks them for deletion.
Search for Duplicates – scans and lists the files with different colors.
Duplicate Filter– besides scanning for duplicate files, the tool allows you to rename, delete and move the files as required.
Duplicate File Eraser– use this free tool to scan an entire drive to locate the duplicate files and remove them.
Should you have any question on this topic, please feel free to ask in the comments section. We, at TechWelkin and our reader community will try to assist you. Thank you for using TechWelkin!