Gmail is one of the most widely used free email service from Google. Gmail was the first web based email service to offer virtually unlimited storage with its forever increasing space counter. At the time of launch Google said that you would not need to delete any email in future. Also, Gmail was probably the first one to allow big file attachments. At present, the maximum attachment size in Gmail is 25 MB. But with growth of multimedia and faster Internet connections, people always wanted to further increase Gmail attachment limit.
To address this need, now Gmail allows you to send huge file attachments via Google Drive. With this feature, it is very easy to go beyond the regular Gmail attachment limit. Today we will learn how to send big file through Gmail.
Break the Gmail Attachment Limit
When you begin to compose an email and try to attach file(s) whose total size is bigger than 25MB, Gmail reminds you that the max attachment size is 25MB. And your files will not be attached. But Gmail will offers you to upload your files in Google Drive and the receiver will be able to download the files at her end.
What is Google Drive?
Google Drive is a Google cloud service where you can create/upload all sorts of files. You can create Google docs, sheets, presentations etc. and also can upload photos, videos and audio files. At present Google Drive offers 15GB of free space with each Google account you have.
Use Google Drive to send bigger files in Gmail
When you will try to upload a file bigger than 25MB, Gmail will show you the following message:
Attachments larger than 25MB will be automatically uploaded to Google Drive. A download link will be included in your emails.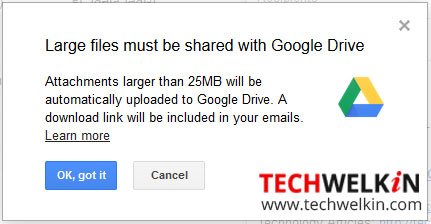 Click OK, got it button and your file will automatically begin to upload in your Google Drive account.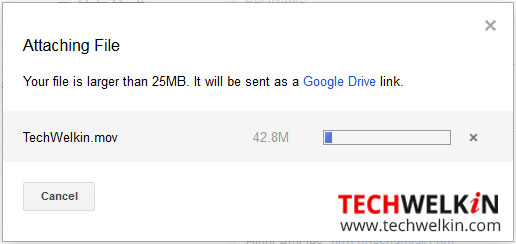 When uploading will complete, a link to the uploaded file will be inserted in your Gmail message:
Now dispatch the email by pressing Send button. Gmail will inform you that you would need to share the file uploaded in Google Drive so that the recipient can access it.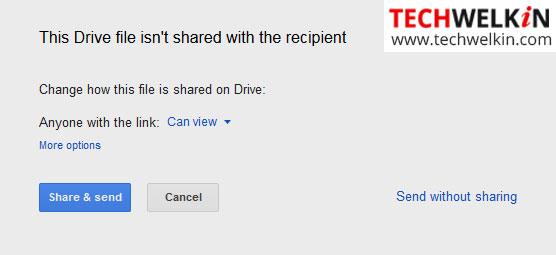 Just click Share & send button to send the email along with attachment link. You can click on Send without sharing link if you want to send the message but don't want to share the attached file.
So, isn't it easy to send heavy files that exceed the Gmail attachment limit via Google Drive?! Remember you've 15 GB of free Drive space available to you. But all your emails (in Gmail), photos (in Google Photos) and uploaded files (in Drive) etc. — they all are included in that 15GB space. So, for example, if you have 14.5GB of photos uploaded in your Google account, then only 0.5GB is left for everything else. In such a case, if you will try to attach a file of 0.7GB size, the upload will fail and you will not be able to send the attachment. But, of course, you can pay Google and buy more Drive space.
We hope that you liked this tutorial on maximum Gmail attachment size. Should you have any questions, please feel free to ask in the comments section. We will try to assist you. Thank you for using TechWelkin!