I have been using a Nokia E63 mobile phone for last one year. Lots of calls as I get, first it became difficult for me to use my phone without a hands-free earphone. Then slowly even hands-free became a nuisance. I am not good at managing those wires of hands-free. I needed a wireless solution. So, I decided to take a Bluetooth headset. A couple of friends warned me about the harmful effects of Bluetooth on user's health.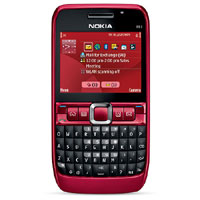 Unfazed, I did a bit of research into this matter and found that it is better to use a Bluetooth headset rather than pressing the mobile phone against your ear. There no health concerns because of Bluetooth.
So, I went ahead with my plan and I bought a Samsung HM1200 Bluetooth headset for Rs. 1500 (US$ 25) along with charger. The vendor confirmed that this headset is compatible with Nokia E63 mobile phone.
I brought it home. It was my very first Bluetooth device! So, I did not know how to connect it with the mobile phone. I figured it out that first you need to pair the Bluetooth headset with mobile phone. I will not go into writing a detailed tutorial about how to do it. Instead, you watch the following video to learn the trick!
By the way, as per the user manual, the default password of Samsung HM1200 is 0000
Since then I have bought more Bluetooth headsets (all of Samsung) and in all cases the default password turned out to be 0000. If your headset manufacturer is different, there are chances that your default password be different. You should check headset user manual for getting this password before you begin pairing with mobile phone.
I hope this tip was useful for you and that it saved you some time. Thank you for using TechWelkin.