Internet works at crazily busy speeds. Unimaginable amount of data gets transferred among millions of computing devises. But how busy exactly is Internet? What all happens on Internet in one minute?
Recently Intel Corporation released an infographic to illustrate what goes on Internet in just one minute! The graphic is full of staggering numbers. It puts in perspective the vastness of the World Wide Web around us. We use Internet all the time without realizing the massive infrastructure that make it work. Let's have a look at what this infographic reveals:
In one minute on Internet:
640,000 GB of IP data transfers takes place
Identities of about 20 people are stolen!
204 million emails are sent
Sales worth $83,000 take place
6 new Wikipedia articles get published
1300 new mobile phone users are added
Google handles more than 2 million search requests
More than 100 LinkedIn accounts are created
277,000 logins and 6 million page views happen on Facebook
YouTube serves 1.3 million videos
30 hours of video is uploaded on YouTube
20 million photos are viewed on Flickr
Pandora serves 61,141 hours of music
47,000 apps are downloaded
More than 320 new Twitter accounts are created
At present the number of networked devices on Internet is equal to the human population. However, by 2015 this number will become double of the human population!
In 2015, it will take you 5 years to watch videos that will circulate through Internet in just one second!
Infographic: One Minute on Internet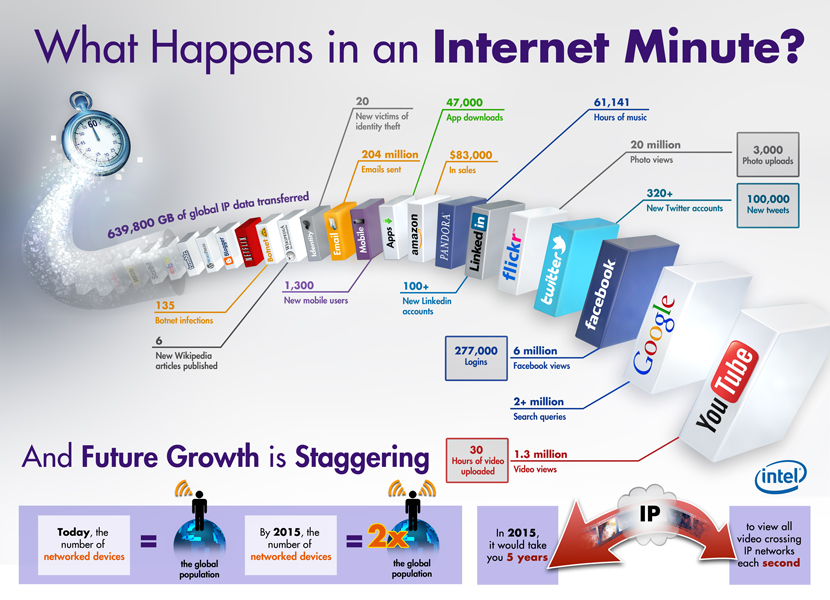 I hope it was useful for you. Please feel free to ask if you have any questions on this topic. I will be happy to try and help. Thank you for using TechWelkin