Tracking Mobile Phone Numbers
Phone stalkers have always been out there. But with the spread of mobile phones, unwanted calls and text messages (aka SMS) have really become a nuisance. And you often wish if you could block such calls on your mobile phone.
Now it is common for all of us to get blank calls, prank calls, indecent text messages, promotional calls and SMS, telecallers harassing you for credit cards or donations... the list is endless. Sometimes unwanted calls become a source of big safety trouble especially for girls. In such a scenario, the first thing you want is to trace the phone number. While landline (fixed line) numbers can be looked into telephone directory, tracing mobile number is not so easy.
The above given
TechWelkin Mobile Number Tracker Tool
helps you quickly trace any mobile number in India without installing any app. Just enter the number and get the instant results. For more information you can use other methods like TrueCaller.
Find Unknown Mobile Number Details
Wondering who is calling you?
Sometimes, I receive phone calls from unknown mobile numbers that neither I nor does my cellphone recognize. In such cases I often wished if I could find details (like caller's name and location) of the phone number. If I happen to miss the call then it becomes a bit difficult decision whether to return the call. The dilemma gets enhanced also because the unknown number could as well be a wrong number and also it could that be of a nagging tele-caller. Very routinely, we all face this problem of unknown phone numbers. In such times, TrueCaller service comes as a great respite. Using TrueCaller, you can easily trace any mobile number and put a name to an unknown mobile phone number number.
Trust me, this is extremely useful if someone is trying to harass you by making unsolicited, unwanted and/or blank calls. Faced with such anti-social elements, people often wish if they could find the details of phone number that is being used by the offender.
How to Find Further Details of Unknown Numbers
Go to the TrueCaller website
Now you would need to sign-in. The website will give you the following options to do login:

Google account
Microsoft account
Facebook account
Yahoo! account

Enter the phone number for which you want to find the caller details.Website will automatically detect your country and country code. If, by chance, the code is wrong, you can select the country code from the drop-down list.
Click on the Search button.
TrueCaller will wade through the database and show you all the details that it will find for the given phone number. For example, see the following image: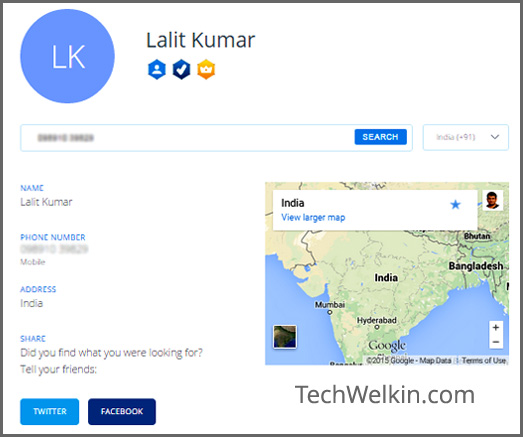 The TrueCaller app is available for all the major mobile platforms. Symbian (old Nokia phones), Android, Windows Phone, BlackBerry and Apple iOS –this app is available on the respective stores of these operating systems. Just search for "truecaller" in the store, download the app and install it.
If you're using a phone with older operating systems, like Symbian and Nokia Series 40, you can download app from the TrueCaller website.
Besides tracking a mobile number, you can also take a few more step to reduce the number of incoming unwanted promotional calls. you should register your number in the National Do Not Disturb (DND) Registry.
National Do Not Disturb (DND) Registry
Pesky telephone calls and SMS/text messages sent by tele-callers and marketers are a massive nuisance in India. It is common for people to keep getting messages and calls to buy flats, plots, insurance, credit cards, loans and what not!
Every time your phone beeps to signal that a new SMS has arrived, you tend to believe that it's a message from family, friend or colleague –but what great disappointment it cause when you open the message only to see an –unbelievable offer! You've wished so many times if you could track these unwanted phone calls!
The Telecom Regulatory Authority of India (TRAI) came to customers' rescue when this nonsense method of marketing grew beyond a limit. TRAI started a DO NOT DISTURB aka DND registry and mandated that if a consumer's phone number is listed in this database –it would be illegal to make marketing calls or send such messages to that number.
Once you get registered in DND, you're not supposed to receive any annoying marketing calls. But in reality, you still do get such calls/sms. Although the number and frequency may get reduced. So, it's beneficial to some extent. Also, if you register in DND database, you can take legal action against such callers.
TRAI has setup a website for this purpose. Go to Telecom Commercial Communications Customer Preference Portal and enter the phone number you want to check for. The site immediately informs you of the DND status of the phone number.
If your mobile phone number turns out to not be listed in this registry –it is highly recommended that you immediately take steps to register it.
How to Register in National Do Not Disturb (DND) Registry
When the telemarketing companies began to go overboard in making unsolicited calls and sending a barrage of sms / text messages to mobile phone customers in India, the Telecom Regulatory Authority of India (TRAI) came to customers' rescue.
Government of India's agency, TRAI, setup a National Do Not Disturb Registry and invited customers to register their phone number. Once registered, it becomes illegal to make marketing calls or send such sms to that phone number. In reality, however, you still do get such calls/sms. Although the number and frequency may get reduced. So, it's beneficial to some extent. Also, if you register in DND database, you can take legal action against such callers.
Register in DND Using SMS
Send an SMS to 1909 with the following text:
START DND
or
START 0
If you want to block only certain types of calls/sms, you can do so by invoking DND only on specific sectors. Send the following SMS to 1909
START <option>
In place of <option> you should write the number given to sectors. The options are:
(1) Banking/Insurance/Financial products/credit cards.
(2) Real Estate.
(3) Education.
(4) Health.
(5) Consumer goods and automobiles.
(6) Airtel Products & Services/Communication/Broadcasting/ Entertainment/IT.
(7) Tourism and Leisure.
(0) Fully Blocked.
For example, if you want to block calls of from marketers selling flats, plots and other real estate properties, send the following to 1909:
START 2
You can combine many sectors in one request as below:
START 2,3,7
If for some reason, the SMS method does not work, you can also call 1909 and follow the instructions given by the Interactive Voice Response (IVR). Once registered, you can later on confirm if your number is correctly listed in the DND registry.
We hope the TechWelkin Mobile Number Tracker Tool was was useful for you. Use it as many times as you want and find out location of unknown mobile numbers. Please feel free to ask if you have any questions. Thank you for using TechWelkin.