Anybody who has a Facebook account knows about Tinder. It's an online dating app. When it first came onto the scene, it was used more as a hook-up app because it finds you potential matches based on their proximity to you, but now almost everyone seems to be on Tinder. And, the app allows users to add information about their gender identity. But maybe Tinder isn't for you? Maybe you've tried it and found it wanting? You want something different, right?  After Tinder's tremendous success many jumped to the fray with similar matching apps and some with better features as well. Today, we will take a look at some of the most popular Tinder alternatives. These are some of the most popular online dating apps that are hooking up millions of people around the world. Let's look for someone who is looking for you!
Tinder Alternatives: List of the Best Online Dating Apps
1. Hinge
Hinge lets you connect with your friends, their friends or others known to your friends. The idea is to use your Facebook account, to give you a connection that you can work through in real life. It means you will be able to have a more personal introduction through a mutual connection. Hinge calls itself Anti-Tinder as it focuses on serious relationships than casual dating.
Hinge dating app is available for free from the App Store. Hinge is a great Tinder alternative for iPhone.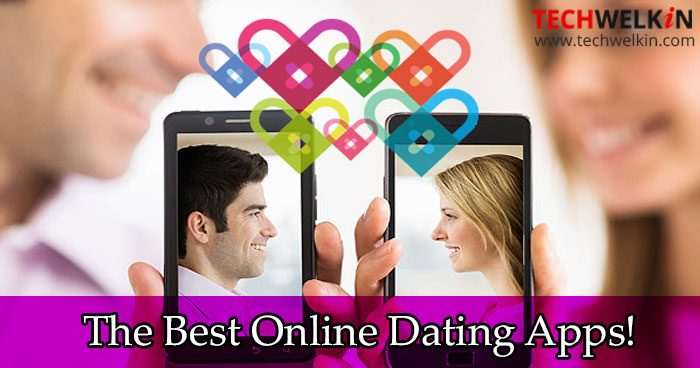 2. Coffee Meets Bagel
Coffee Meets Bagel is the first app to be profiled in Top Mobile Trend's "Best Dating Apps" series. Coffee Meets Bagel was mentioned in Time magazine as one of "10 Apps for People Who Want to Fall in Love". [Source: Wikipedia]
Designed by three sisters, the app promises quality, something no other service, save for Hinge, has set out to do. The app uses Facebook account information to identify potential matches. Users are exposed to at least one match per day, but can contact their matches only if they Like them and their match too responds in the affirmative.
Coffee Meets Bagel (CMB) app is available for free from the Play Store and App Store.
3. OKCupid: Another Excellent Tinder Alternative
OKCupid has features that are very similar to Tinder. However, it also has a few unique features like its ability to broadcast your date suggestions, as well as the ability to rate other people's profiles. The app's interface is good when it comes to speed and readability. You can quickly see who is a good match for you with additional details about the person.
The app notifies its members when someone views their pages. The profiles are public by default and indexed by Google. However, you can change your privacy settings. This app is good for both- people looking for causal flings as well as serious relationships. If you want a dating app experience that is more data-driven, the OKCupid app may be what you're looking for.
The app is available for free from the Play Store and the App Store respectively with an option to upgrade at $9.99/month.
4. Happn
Happn's tagline is 'find the people you've crossed paths with', which it does by helping you discover other singles within a 250m radius. Happn is much like Tinder in the way that it creates your dating profile by hooking up to your Facebook then all you have to do is select the gender you are interested in dating and the age range. It tells you whether you've crossed paths with them once or several times, gives you a map of roughly where you crossed paths, their photos, name, age and profession. If you like what you see you can hit the red love heart icon and if the feeling is mutual you have a "crush" and can start messaging. There's also a Charm feature that you can send to people if you really want to get noticed, similar to Superlikes on Tinder.
Though the app is growing but unless you are in a big city, it is unlikely that you'll walk past many Happn fellow users soon. Not so ideal for serious dating.
The app is available for free from the Play Store and the App Store.
5. Bristlr
Bristlr is a beard-centric app, meaning it is a dating app for bearded men, and women who fancy men with beards. The app allows you to flick through your potential matches giving a yes or no based on their looks and if you both say yes, it will match you up for a chat. Then it's up to you, whether you want to meet for a date or not. The only prerequisite is that if you're a man, you must have a beard and the app provides a beard-rating option as well.
The app is available for free from the Play Store and the App Store.
6. Plenty of Fish (POF)
Plenty of Fish also known as POF is one of the most popular dating apps with over 70 million active members. The app lets you discover people sorted by online users, new users and more. The app lets you send unlimited messages to anyone. There are other interesting features like chat heads, VoIP calling and more.
Plenty of Fish dating app is available for free from the Play Store and the App Store.
7. LoveFlutter
LoveFlutter combines Tinder and Twitter – giving you the best of both worlds. It displays the user's 14-character profile with a blurred image. The idea is to first connect with the person and then the looks. The app's description says "Add your Twitter-like fact & discover people by personality first, looks second, because on a date, looks matter but it is the personality that counts". The photos are made available only when both people approve of each other.
LoveFlutter dating app is available for free from Play Store and the App Store.
8. Bumble
Bumble app evolved fast since its inception in 2014. This dating app is special because when two people swipe right and match, the woman has to send the first message in 24 hours, else the match is cancelled. Moreover, the app lets you see people who are only looking for friends. Well, all valuable relationship need not be romantic in nature, definitely an ideal app for pure friendships too.
The app is available for free from the Play Store and the App Store.
9. Woo
Woo is a Tinder like dating app aimed at Indians with some cool features. Woo lets people add voice introductions, so you can easily listen to voice introductions just in case it helps you to decide better. The app includes Superlike feature of Tinder called Crushes, and you can send messages to your Crush to literally "woo" him or her. Other features include the ability to search for people based on interest, profession etc.
The app is available for free from the Play Store and the App Store. However, the special features are available at a cost.
10. Rendeevoo
This dating app lets you set up actual meetings between people at bars or coffee shops. Rendeevoo allows you to invite people for a drink or coffee and if the feeling is mutual, the app lets you choose from one of its handpicked places to meet. To confirm your first rendezvous, you will have to pay for your drink using your card or Apple Pay. Rendeevoo dating app is available for free from the App Store.
Remember all the dating apps mentioned above allow you to report or block a user if required. Happy dating!
Should you have any question on this topic, please feel free to ask in the comments section. We at TechWelkin and our reader community will try to assist you. Thank you for using TechWelkin!