Eons ago typing was restricted for stenographers, secretaries and typists working in various departments. But not anymore! In the recent times touch-typing has become a critical and must have skill. Hunt and peck typing restricts you to use your devices efficiently. Learning how to touch-type quickly and accurately can reap variety of benefits. Mastering the art of typing can help you communicate faster. It is never too late to learn.  This article will list top 10 typing software and corresponding details.
But what is touch-typing? Well, it means to type on keyboard using all your fingers without looking at the keys. It is the best method of efficient typing to ensure that you are not using the 'hunt and peck' method on a touch-type keyboard. Accuracy and speed are key elements to master, when you are learning to type, and it comes with practice. Most of the typing software focus on correct typing over speed.
NOTE: If you're more of a typist on mobile phone, you may want to look at the best keyboard apps to enhance your typing skills.
1. UltraKey Typing Software
UltraKey is one of the most popular typing software that adapts to individual typists for more effective training. Most commendable feature of UltraKey is that it allows you to progress at your own pace. The software includes lessons and performance goals based on initial skill assessment. You also have the option of repeating a lesson or typing exercise for additional practice. UltraKey claims that by spending just 20 minutes a day you can be a fairly good touch-typist at the end of the week!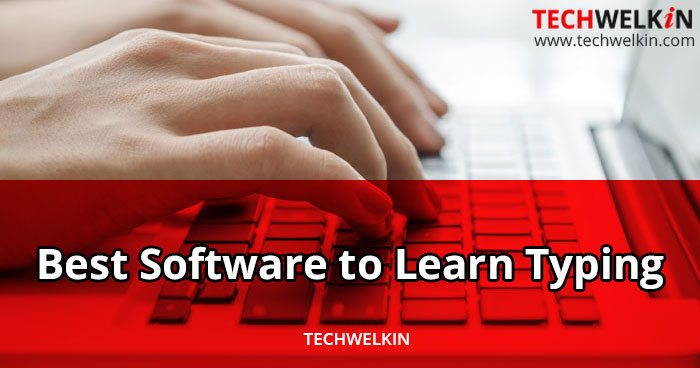 The software includes features like certificates, record keeping in the cloud along with the licensing options. UltraKey currently supports localized keyboard layouts for North America, UK and Australia. You can download a trial version or purchase it for $39.95.
TECHWELKIN TOOLS: Online Typing in Arabic
2. Typesy Typing Software
Typesy is also considered as one the best typing applications. It includes 16 powerful games and activities designed to make typing fun and automatic. Playing the games for a few minutes each day will soon make you type with faster speed and much higher accuracy. Each game is designed to eliminate specific weaknesses or hone certain skills.
The software also includes video tutorials with step by step instructions, advanced monitoring, personal help, social profile with a dashboard, smart goals, and statistics. Unfortunately, Typesy does not include free or trial version, buy a single license can be installed on multiple devices. The software is available for $29.95 and is supported on Windows, Linux and Chrome OS.
TECHWELKIN TOOLS: Online Typing in Hindi
3. Typing Instructor Platinum
Typing Instructor Platinum is a typing software that is packed with the right mixture of education and entertainment. It helps users improve their typing skills quickly and see immediate results.  It includes 20 lesson plans that you can customize. You can also make your own plans.
This software is packed with hundreds of typing lessons, exercises, tests, and challenges. The typing games include over 30 action-packed, arcade-style typing game challenges, multi-level and multi-player games and the first ever typing adventure narration game. With a variety of ways to practice typing, with games, lessons, challenges, dictation, drills, and 250+ magazine articles, this software is indeed a catch. Just go for it.
It is supported on Windows 10, 8, 7, XP, OS X and you can download a free trial or opt for a paid full version for $29.99.
TECHWELKIN TOOLS: Online Typing in Sinhalese
4. KeyBlaze
KeyBlaze typing tutor software is designed to assist you to learn speed type and touch-type. The software allows you to start with basic lessons such as Home Keys for index, middle and pinky fingers and practice lessons including poetry, prose and drills. It includes typing tests with varying duration that range from 1 to 20 minutes. It is suitable for beginners as well as professionals.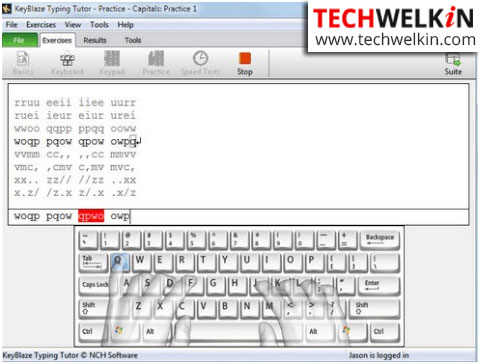 The initial skills test is used to determine your current level, typing skills, speed and accuracy. The Keyboard highlighting displays correct finger placement and sound, and color highlighting notifies you of the mistakes. The software offers course completion certificates and supports various keyboard layouts like US English, UK English, Dvorak, German and more.
It is available as a trial version. The program locks after using it for few times and prompts you to purchase it online. However, you can re-install it multiple times to continue using it. You can buy the paid version for $29.99.
TECHWELKIN TOOLS: Online Typing in Malayalam
5. Klavaro Touch Typing Tutor
It is a flexible touch-typing tutor that supports keyboard layouts that can be customized. Klavaro Touch Typing Tutor allows you to edit and save new or unknown keyboard layouts, thereby eliminating the need to depend on specific ones. It is available in almost all the languages including Urdu and can be downloaded for free. Klavaro Touch Typing Tutor can run as an online game and has a clean graphical user interface. It includes different levels of exercises and courses.
The typing courses are designed to help you memorize the key positions on the keyboard. The exercises are aimed to improve your keyboard typing adaptability, velocity and fluidity. You can choose to view the graphical representation of your performance at the end of each exercise. The graph helps you to identify the drawbacks and improve upon them.
TECHWELKIN TOOLS: Online Typing in Urdu
6. Rapid Typing
Rapid Typing too lets you configure your keyboard corresponding to the language, the number of keys and platform. You can choose to learn either using one hand or two hand touch-typing. You can access detailed separate lessons for basic typing, shift keys, digit keys and numeric keys. It offers various courses for beginners, experienced users, and for the advanced users to test their skills.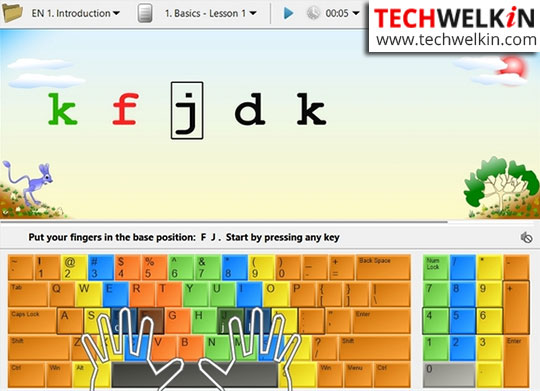 The software supports 24 languages and offers a Rapid Typing Portable version as well. It does not require an installation and you can copy it on a USB stick and use as required. You can download the software for free and it is compatible with most of the major platforms.
TECHWELKIN TOOLS: Online Typing in Bengali
7. G S Typing Tutor
GS Typing Tutor supports 24 keyboard layouts and most of the major languages. Before you begin the course, you are prompted to specify whether you would want to learn single handed or two handed typing. The software includes two modes of learning:
Beginners – for people who want to learn typing from scratch, and
Performance – for people who want to hone their typing skills.
It includes typing tests, statistics, special practice for specific issues, different types of courses and more. It is supported on Windows 10, 8, 7, & XP. It is available as a free trial and can be purchased for $29.95.
TECHWELKIN TOOLS: Online Typing in Tamil
8. Typing Trainer
Typing Trainer is a free typing tester and trainer for Windows. It includes a warm up exercise of 45 minutes to help you evaluate your typing skills with a detailed report. Typing Trainer also studies your typing techniques and makes specific recommendations to help you improve them. It is loaded with games, reviews and plenty of features that help you improve speed and skills.
The software includes the Typing Analyzer, a unique tool that analyzes your everyday typing in other programs and identifies those keys that repeatedly cause difficulties.
TECHWELKIN TOOLS: Online Typing in Oriya
9. Master Key
Master Key is a versatile typing tutor and supported on all platforms. You can learn on a new keyboard such as QWERTY, Dvorak, or Colemak or improve your typing skills using drills or any plain text files. Playing the ParaTyper game keeps the user interested in upgrading their typing skills well past 40 words per minute.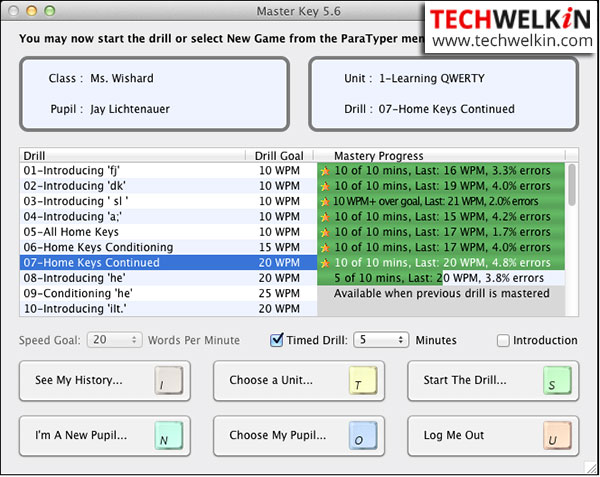 The software has the ability to create custom drills to enable you to work on your weaknesses and print a certificate on completion of the drill. It supports French, German and English. The software offers trial versions and the paid version is available for $15. The paid version unlocks many useful features and offers additional drills.
TECHWELKIN TOOLS: Online Typing in Telugu
10. Type Faster
TypeFaster enables you to learn how to touch-type. It is free to use and requires very little memory space.  TypeFaster supports 14 different keyboard languages including American and British English. It has a single and multi-user options that helps you to enjoy learn touch-type with others. The software helps you choose the right fingers to type. The source code is available for free if required to embed within a web page.
TypeFaster is an effective and flexible typing program. Other features include three-dimensional typing game lessons designed for coaches and teachers, feedback and different accounts for multi-user options.
Besides the above mentioned typing software, you can learn typing on certain websites for free. Some of them are Typing.com, Goodtyping.com, 10Fastfingers.com, and Ratatype.com.
Hope by the time you are through reading the article, you would have already decided which software to use to hone your typing skills. Should you have any question on this topic, please feel free to ask in the comments section. We at TechWelkin and our reader community will try to assist you. Thank you for using TechWelkin!