Is it possible for massive and innovative companies like Facebook, Google and Apple to produce a failed product? Oh, why not? Yes, in the past, all these companies have produced products that have failed miserably.
Sometime ago I wrote about failed Google products. It's a bit shocking to think that juggernauts like Google can also fail! But sometimes they indeed do! … Facebook, another Internet giant, is no exception. At times, features and products offered by Facebook fail to take off. Here is the list of such products:
Facebook Lite
Remember the stripped down version of Facebook that people thought will give a big challenge to Twitter? Facebook Lite was supposed to be fast –but in effect it was not considerably faster than full-fledged Facebook. Lite was launched in September 2009 and shut-down in April 2010 –hardly a lifespan that Mark Zuckerberg would have liked for one of the Facebook products.
Facebook Lite did not support third party apps and was using only limited Facebook features –therefore it was supposed to run faster. To make it even faster, Facebook delivered Lite through higher bandwidth. But despite all this, the Lite version of Facebook failed to impress the users and… it died.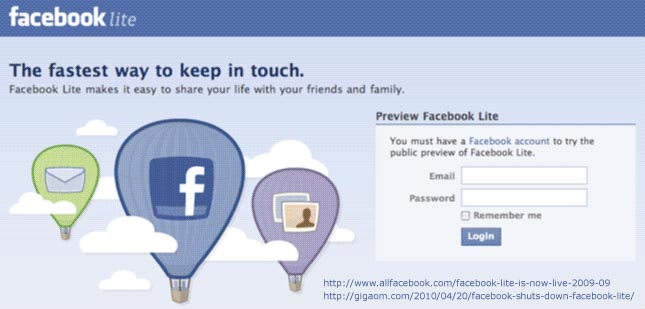 FBML
Facebook Markup Language (FBML) was launched to help applications developers to customize user profiles. This language failed to be the favorite of FB developers mostly because it did not support JavaScript. Moreover, it did not support important HTML tags like HEAD, BODY, META etc. In January 2012, Facebook appealed to app developers to prefer HTML/CSS/JavaScript instead of FBML because Facebook was not going to add anymore features to FBML. This effectively means that FBML was on fast track to be phased out.
Facebook Places
In August 2010, Facebook announced that the much-awaited Places feature would be available to its users. Using Facebook Places you could tell where exactly your are on the planet. Although it was optional for users to disclose their locations –but some people found it nosy and breaching their privacy. This, however, was not because of users' dislike that the product failed. It was Facebook who killed it and integrated it into the core Facebook website.
Facebook Deals
In April 2011, Facebook did a trial in 5 test cities (San Francisco, Austin, Dallas, Atlanta and San Diego) and offered popular daily deals to its massive user base. Soon, three more cities (Charlotte, St. Louis and Minneapolis) were added to the trial but in August 2011, Facebook announced "After testing Deals for four months, we've decided to end our Deals product in the coming weeks"
Facebook wanted was take a share in the daily deals market and was hoping to be a competitor of Groupon. Through Deals, Facebook offered vouchers to its users for goods and services before the customers actually went for shopping. But obviously, users did not buy Facebook's deal!
Facebook Email
In 2010, Facebook announced that it will offer "@facebook.com" email addresses to its users. Many wondered if this move of Facebook could kill Gmail? But, as you know, nothing of that sort happened. Although a large number of users registered their Facebook email IDs but these IDs did not really come in circulation. People still preferred to use their email accounts that they were using before making Facebook email ID.
Facebook wanted to provide seamless messaging service to its users which included instant messaging, text messaging, emails and other stuff.
In a nutshell, Gmail is still in the pink of its health and @facebook.com is nearing its definite failure.
Real Time Ticker
In 2010, Facebook added a sidebar which showed real-time activities of your friends. First of all, visually it proved to be distracting as it was like a flowing river of notifications. The more friends you have the more irritating this ticker would become. Whether or not you wanted to know friends' updates –you will anyway get it –served right in front of your eyes. No sooner than the was ticker was launched –did people began to look for tricks to hide it. The ticker was labeled as "nuisance", "spammer", "noise machine" and what not. It was good for Facebook to honor users' mood and do away with the ticker in sidebar. The ticker however still exist on top of the chat contacts sidebar. So, the nuisance is still there but it has become smaller.
Facebook Gifts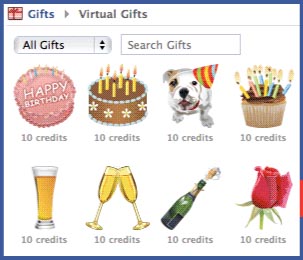 This product was launched in 2007. Designed by Susan Kare, a former Apple employee, the product offered virtual gifts that could be sent by Facebook users to their friends. Facebook charged $1 for each gift and the earning were donated to charity organization. Just before shutting it down, Facebook changed the purchase model from $1 per gift to 100 credit points per $1 (so you could buy a gift for less than $1). But this change did not suffice to halt the slide of Facebook Gifts into darkness. The product was closed down in 2008.
Infographic on Failures of Facebook
An infographic showing criticisms, missteps and outright failures of Facebook. This graphic was prepared by wordstream.com

These were some of the Facebook initiative that were refused by the users and therefore, failed. Do let me know if you have any other Facebook product to add to this list. Do you consider
Facebook Sticker Store
a failed product? If so, why? I guess it is not yet failed but it is not also very popular either.