You are busy inviting your friends to your sister's wedding. Your Gmail address book is up-to-date. You are happy that you have more than 700+ friends. Wow! Your mail merge document is also ready. You are confident that your favorite Gmail, one of the most popular email service, will deliver the invitations in seconds. You press the Send button. And Boom! "Gmail Limit: You have reached a limit for sending mail" error appears! You're left wondering what is the Gmail limit per day? Exactly how many emails can you send per day through Gmail?
Gmail limits the number of messages sent per day and also the number of recipients per message. Today we will discuss how to avoid the error and the associated best practices. The discussion holds true for mails sent from your computer or the mobile devices.
Gmail limit: why does it exist?
Most Gmail users have come across the "Limit" error message sometime or the other. As a regular Gmail account user you must understand how many mails you can send through your account. A regular Gmail account is an account with an address containing the domain gmail.com and it is available for free.
So it does have certain limitations to help prevent the spam and to keep your Google account safe. You cannot exceed the number of emails you can send per day or the number of people you can add as recipients.
As a regular Gmail account user you can send 500 messages per day. But, if you are using POP or IMAP client, the limit is reduced to 100 messages per day.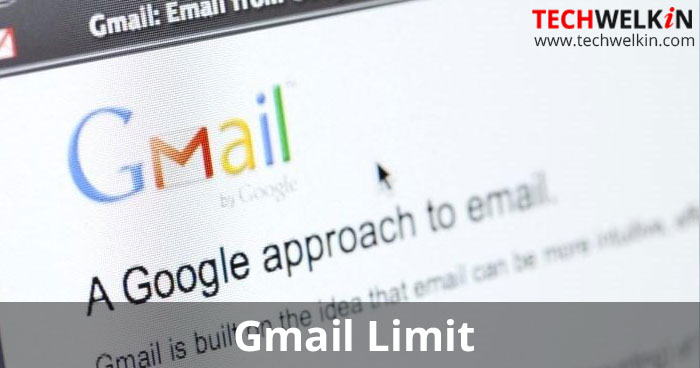 If you exceed the daily quota, besides popping up the error message, Gmail keeps the unsent messages in the Draft folder of your mailbox. Google may also temporarily disable your Gmail account without any warnings. However, after 24 hours you can regain access to your Gmail inbox.
Sometimes when the messages sent are within the permissible limits, you still get a similar error. Please note that each CC or BCC recipient too adds to the count, so if you have one email with 25 BCC recipients, then it will be counted as twenty six emails. One email with too many BCC recipients may also be rejected as spamming.
Please note that these limits apply only on the free Gmail accounts. However, if you are using the G Suite for paid account, the limits will be higher as the app may have its own sending limits.
Now let's see the types error you may receive and and how to fix them.
How to Fix the Gmail Errors
You don't have to perform any major tasks to avoid Gmail error. By keeping few basic tips in mind you can fix or avoid the error. Let us see some of the errors that we may encounter.
You sent a message to a large group of people

The above "Gmail Limit" error message pops up if you send an email to more than 500 recipients in a single email or send more than 500 emails in a day.
When you get this error, you should be able to send mails again after 24 hours.
You can prevent the error in the future by creating a Google Group of all the recipients and sending the message to the group's email address or by sending email to a lesser number of recipients.

Messages you sent could not be delivered

You will encounter this error when the emails that you sent could not be delivered due to invalid recipient address or because the messages bounced from the recipient's email server. However, you should be able to resend the messages after 24 hours.
You can prevent the error by updating the recipient email address.

One of your recipients is a Google+ contact

The above error is actually not an error but a Gmail bug. To avoid the error, simply remove the Google+ contact from the recipient list.
As mentioned earlier sometimes you may encounter the Gmail Limit error even without exceeding the number of recipients. It is important to note that the restriction is imposed on the number of recipients and not the messages. You can avoid the error by following the below mentioned tips:
Keep the number of recipients lower initially, maybe between 50- 100 names. Increase the number of recipients only when required, especially if you are using Gmail for business.
If your account is associated with other non-Gmail addresses, the Gmail rules still apply when you use those addresses to send the mail.
Ensure Gmail's Outbox has no mails as it could add to the daily quota limit.
Ensure that multiple instances of Gmail are not opened on the same or different computers.
Send the emails to active recipients from your address book and who you are sure want to receive your mail else your recipient might mark you as "Spam".
Avoid uploading a big batch of names to your address book.
Check and disable if you have given account access to any other websites, apps, utilities.
Avoid multiple BCC recipients, else Gmail will flag your account as 'spamming' and will permanently terminate the account.
Gmail is not is designed to send bulk emails so avoid using it for such purpose.
If you are also using Gmail as your business account to send newsletters, marketing brochures etc., it would be wise to follow the rules or opt for a mailer services like MailChimp or newsletter creators like Flashissue.
Conclusion
Following the above mentioned simple guidelines will help you avoid Gmail Limit error. Now you know how many emails you can send per day through Gmail. So, don't exceed the limit.
Should you have any question on this topic, please feel free to ask in the comments section. We at TechWelkin and our reader community will try to assist you. Thank you for using TechWelkin!