Gone are the days of mobile devices that used keypad (but we still haven't forgotten Nokia 1100, have we?!). Nowadays, smartphones and tablets use touchscreen for taking user input. Sometimes, we feel that touchscreen on our mobile device is not working smoothly. Touchscreen is not responding the way it used to when you had purchased your brand new mobile phone. We understand that touch input quality is better in some phones than other. But if a phone refuses to understand tap from your fingers, it becomes very annoying to use the phone.
Today we will talk about a few methods to solve the problem of touchscreen not working. All these methods are being listed assuming that there is no physical damage to your mobile's screen. If you have a crack on touchscreen or it is totally broken, you better claim warranty if you can. But if touchscreen is not cracked, you can try the following methods to get it working.
Method 1: Touchscreen not Working? Well, Clean it up!
As time passes, because of constant use, touchscreen of your phone may acquire a layer of grease. After all we don't wash our hands before touching the touchscreen! So, the screen accumulates oily substances, dust and what not! So, if you feel that your touchscreen is not working, first of all, give it thorough cleaning.  Take a smooth cloth, damp it a bit in water and wipe the touchscreen gently (or may be a little harder than gently). Tilt the phone and see if clean screen is visible. If you see any more greasy marks, wife them off.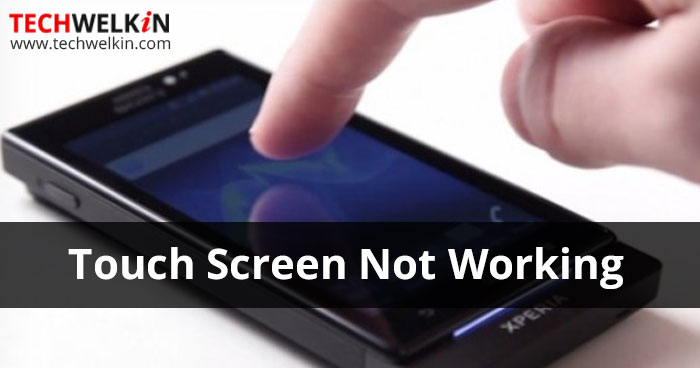 Method 2: Restart Mobile Phone to Rescue a Hung Touchscreen
Sometimes, it's not your touchscreen who we should blame. Phone's operating system (Android, iOS etc.) sometimes get hung and the whole phone becomes unresponsive. Power off your phone and remove battery. Put the battery back in and switch on the phone. If the touchscreen problem was because of your hung mobile phone, it would have been solved by now.
Method 3: Remove SIM Card, Memory Card and Battery
If the touchscreen problem persists, bear a bit more pain and again shutdown your phone. Remove SIM card, memory card (SD Card) and battery from the phone… and wait for a minute. Put it all together again and reboot the phone. See if touchscreen is behaving any better.
Method 4: Remove Screen Guard / Case
We really wonder why people are still opting for screen guards (protectors) on their mobiles. Nowadays, the quality of screen glass has become very good and screens are anyway scratch resistant. So there is hardly any need of a screen guard.
Sometimes, screen guards get scratched and blurred; causing mobile touchscreen malfunction. You should try and remove screen guard to see if touchscreen works again. Please note that you will not be able to apply the same screen guard again.
Also, some screen guards require a professional to peel it off the screen. So, if you're not easily able to peel off the screen guard, take your phone to a professional to get the guard removed.
Method 5: Tap Tap Knock Knock!
If you have recently dropped your phone and it fell hard, there is a possibility that the screen alignment got disturbed and/or the screen digitizer cable became loose. You can't do much in such a case except knock on all four corners of the screen in hope to get the alignment back in place. Surprisingly, this trick works in a lot of cases.
Just knock all four corners of the screen with your knuckle or finger tip. Knock each corner 4-5 times.
Method 6: Dry it up to Get the Touchscreen Working!
If you dropped your phone in water and after that the touch screen stopped working; you should switch off your phone. Now remove the SIM card, memory card and battery… also remove anything else that is removable. If it is easily possible to open your phone any further –do that (just don't break anything!). Now spread all these parts (including the screen) under the sun and let them dry. Most phones are not fully water resistant. As a result, moisture may seep into your phone and block the functioning of touchscreen.
If touchscreen still doesn't work, take your phone to a professional / service center. They can dry up your phone in a better way by submerging it in alcohol of a specific concentration.
Method 6: Hard Reset your Phone
If the touchscreen is still not working as expected, it is time to hard reset your phone. This option will set your phone back to factory settings (you can call it formatting your phone). Use of this option will remove all data from your mobile phone. You will lose everything that would be there in the internal memory. And it will be gone forever. All the messages, contacts, apps, bookmarks, photos, videos, songs, ringtone… everything will be deleted. Essentially, this option will make your phone just the way it was when produced in the factory.
So, don't forget to take backup before you do hard reset.
If none of the above methods work, you should take your phone to a professional / service center and get the touchscreen repaired.
We hope that this article on how to fix the unresponsive touchscreen of your mobile phone was useful for you. Should you have any questions  or suggestions, please feel free to post comments. We will try to assist you. Thank you for using TechWelkin!