Almost everyday new mobile phones are landing in market. Every phone tries to beat competition by offering more and more new features to customers. Nowadays, hybrid SIM card slots are becoming a trend in some of the popular smart phones. A friend recently bought Asus Zenfone 3 which came with such a hybrid slot. But he had no idea what it is. So, he asked me the meaning of hybrid sim card slot and thus I looked into it. In this article I will discuss what is a hybrid SIM card slot, its feature and its advantages and disadvantages.
The word hybrid mean a combination of features from two or more different entities. Hybrid SIM card slot allows you to use your phone as a dual-SIM phone or as a single-SIM phone with a microSD card in the second slot to expand the phone's memory. As the end user you can decide what you want:
a dual SIM phone or
a single SIM phone with expanded memory.
The choice is yours!
Advantages of Hybrid SIM Card slot
Actually speaking there is no advantage to the user whatsoever except that you do not need to open the phone's hard case anymore.  You can simply slide in the tray with the SIM and microSD. This gives you the convenience of changing your phone's SIM configuration very easily.
But hybrid slot gives a clear advantage to the phone's manufacturer. For the phone manufacturers, hybrid slot saves space. This saved space will help produce a slimmer phone — or maybe with a larger battery, additional RAM or a powerful camera.
SEE ALSO: How to Convert micro SIM to nano SIM
So, instead of removing existing features to accommodate new features, phone manufacturers have opted for the additional slot and coupled it with the dual SIM tray. As a manufacturer they are offering you both — dual SIM option as well as extra storage.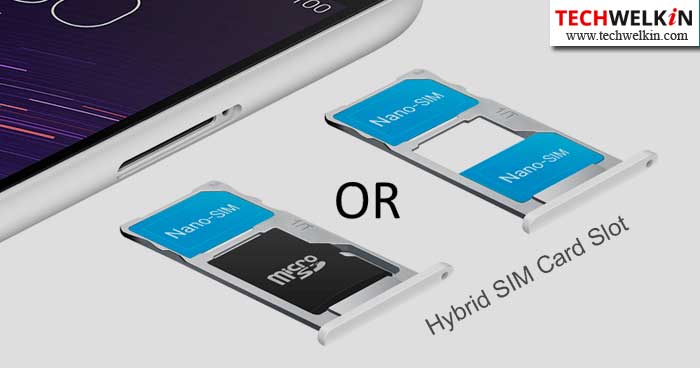 The above image displays how the hybrid SIM card slot is used in a mobile phone.
Disadvantages of Hybrid SIM Card slot
The Hybrid SIM Card slot feature does not allow you to use the features together. That's obvious! You can use it either as a dual SIM or as a single SIM + microSD. This feature limits your phone's functionality and that is the major disadvantage of hybrid SIM slot. It would have been advantageous to the user if a third slot was also provided. In that case you could have had a dual SIM phone with an expandable memory.
Mobile Phones with Hybrid SIM Card Slots
Following is the list of some of the smartphones that offer hybrid SIM slot.
Asus Zenfone 3 and 3 Ultra
Gionee S6, S6 Pro, S6s
Huawei Honor 5c, 7, 8
Huawei Honor Note 8
Huawei Honor V8
Lenovo Vibe X3
Micromax Canvas 6
Oppo F1 and F1 Plus
Samsung Galaxy A3, A5, A7, A8
Samsung Galaxy C7, E5, J1 Nxt, S8, Z3
vivo V3Max and X7 Plus
Xiaomi Redmi 3, 3s Prime, 3s Pro, 3x, 4
Xiaomi Redmi Note 3 and 4
ZTE Axon 7 and 7 mini
ZTE nubia Z11
Conclusion
Users who like to have a SIM for voice calls and a separate SIM for data usage along with extra storage, they will not like the hybrid SIM card feature. There are hybrid SIM card hacks available that may meet your requirement. However, those are not easy or safe solutions. Many popular smartphone models are available with this feature but instead of buying a phone because of its popularity, it is better to buy one that meets your requirement.
Should you have any question on this topic, please feel free to ask in the comments section. We at TechWelkin and our reader community will try to assist you. Thank you for using TechWelkin!