Apple is known to put their heart in designing their products. For Apple, the design of their products is as important as the product's functionality. They take care of all the tiny details. And this is why iPhone's user interface (UI) with all those 3D touch and gesture features is loved by all.
One of such tiny details is the clock icon in iPhone. Most of us take it just as an icon. Most of us would not even notice the time shown by the clock graphic painted on the icon. But if you do notice, you will realize that this clock icon is actually a functional clock! The icon will always show you the current time. If you look at it long enough, you will even see the seconds hand of the clock moving.
Many users put the clock icon tucked away in a separate folder as the time is anyway visible in the top bar of iPhone. In addition, lock screen also displays time. So, you don't really need to open the clock app unless you want to set an alarm. But now that you know that the clock icon is a real clock, you might as well consider putting the clock icon right on the home screen. It's cool to see time in an analogous ticking clock.
See the following combination image that shows two screenshots of iPhone taken at different times. Notice that the clock icon in both screenshots is showing the time matching up with the time shown in the top bar.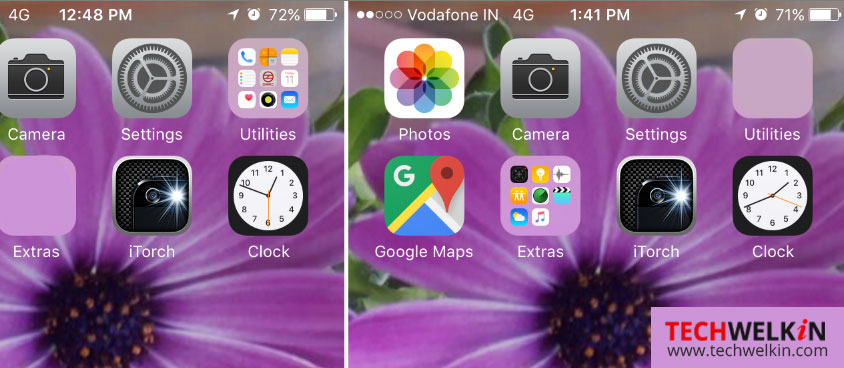 I am sure, by now, many of you must have had an inquiring look at the calendar app icon as well. Yes!, the calendar app icon also shows the current date and day. Although the functional calendar app icon has long been there, the functional clock icon was introduced by Apple in iOS 7. This feature was named as LiveClock by Apple.
How does Apple Animate the Clock Icon in iOS?
If you're an iOS app developer and you're wondering about how this clock works, you will be disappointed to know that there is no public API for this animated clock icon. So far, Apple has not released the API to access/create such a feature. This clock icon is also not an animated GIF image — because if it were, it would have had 43200 different frames. That would make the GIF image pretty large. So, it is safe to assume that this clock icon works due to an internal coding.