You come across a useful file on the Internet and you decide to download it. But when download completes, you don't know where the downloaded file has gone! For most computer users, this may be a routine and very easy task, but many people find it a bit difficult to locate downloaded files in their computer. Today, TechWelkin will focus on this issue and will answer this amusing query.
Mostly people download files using web browsers like Google Chrome, Mozilla Firefox and Internet Explorer. We will tell you how to locate recent files downloaded using browsers.
Find Recently Downloaded Files
Windows computers have a default location where downloaded files are usually stored. By default, web browsers download files in the Windows Download folder. Therefore, after download has finished, you should open Windows Explorer or File Explorer in your computer to find the files.
Often you will find a lot of files in the Download folder. You could feel confused in locating the file you had just downloaded a moments ago. In such a case, do as below:
Open Windows or File Explorer
Click on Download folder in the left hand side pane. You will see content of the Download folder in the right hand side pane
Take right click in the right hand side pane. Make sure that you right click in an empty area and not on a file or folder
A menu will pop up. Select View > Details
Now downloaded files will be shown along with the date and time they were created
Click on the head of the column named Date modified. This will sort all the files according to the date/time they were downloaded
You should find recently downloaded file at the top of the list (if sort is descending) or bottom of the list (if sort if ascending)
In some cases, download location could be set something other than the default download folder. If you could not locate the recently downloaded file using the above method, chances are that the files have been downloaded elsewhere. In such a case, take the following steps:
Google Chrome
Google Chrome shows downloaded files in a bottom docked bar. You should click the tiny arrow shown on the right hand side of each downloaded file and select Show in folder option.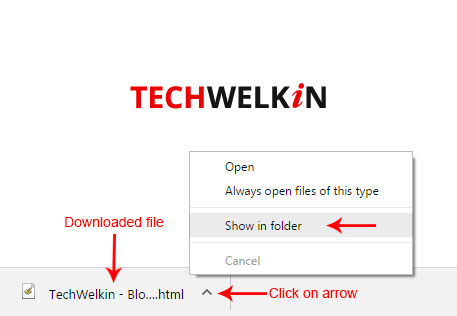 Mozilla Firefox
Mozilla Firefox also allows you to locate recently downloaded files. Follow the instructions given in the following image and you will be able to open and locate the file right in the folder where is has been downloaded.
We hope that these tips will be useful for you and that now you will easily locate your recently downloaded files in a folder. Should you have any questions, please feel free to ask in the comments section. We will try and assist you. Thank you for using TechWelkin!