Most photos could do with a few tweaks or improvements after they are shot, no matter how much care was taken when capturing them. Due to the numerous factors that can affect how a photo turns out, it is difficult to ensure that everything is perfect – particularly when shooting outside of a studio setting.
That is why if you want to make sure your photos look their best – it is important to be able to edit them. Although you may have heard about how complicated editing photos can be OR even had some bad experiences of your own with various photo editors – you may rest assured that it will be different with Movavi Photo Editor for Mac.
No Experience Required
Unlike other photo editors that tend to be designed for professionals who have considerable amounts of experience; Movavi Photo Editor for Mac focuses on being much more accessible. By adopting a more intuitive approach, it can be used by even those with little or no experience in photography or editing photos.
User Friendly Interface
In part Movavi is able to achieve this due to its clean and simple user interface. All of its features are neatly organized into tabs and so users can find what they need by simply selecting the type of editing they wish to perform. Similarly the features in Movavi Photo Editor for Mac themselves can be applied with little or no hassle, and often require familiar actions such as dragging and dropping, adjusting sliders, pulling on windows to resize them, and so on.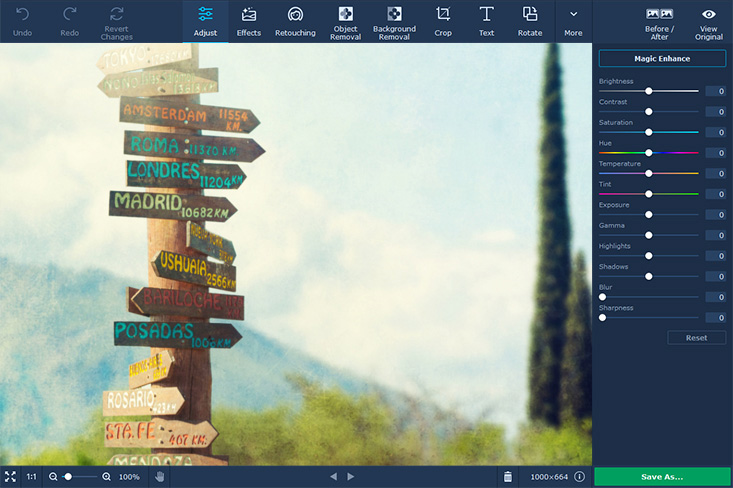 Extensive Features
While it may focus on being accessible, Movavi Photo Editor for Mac does not let that detract from its core function as a photo editor. If anything, you will actually be able to achieve more with its features, as you will be able to use the full scope of what they provide.
When it comes right down to it the features in Movavi Photo Editor for Mac are nothing less than extensive, and will let you:
Enhance the quality of images by manually adjusting the color settings or using the automated "Magic Enhance" feature.
Fix common issues with photos such as blurry or pixelated images.
Apply an array of different filters to transform the visual style of your photos.
Transform the frame and orientation by flipping, leveling, rotating, resizing or cropping it.
Remove any people, objects or other elements from the composition of your photos and ensure no traces or imperfections remain.
Delete the background from a photo completely to create a transparency or replace it with a new image.
Touch up portraits by applying digital makeup such as lip tints, mascara, or eye shadow while removing blemishes, whitening teeth, and much more.
Insert text and customize its appearance to create unique captions, titles or watermarks.
Based on that it should be clear that Movavi Photo Editor for Mac contains everything you could want from an image editor for Mac. With its extensive features and intuitive approach, it won't take you long to start editing your photos and making sure that they look great.
Have you used this photo editor? If yes, please share your experiences with us. Also, please, let us know if you have faced any issues. Thank you for using TechWelkin!