At times it happens that when you open your Google Chrome browser, you get the "your connection is not private" error. We have recently published articles on other Chrome errors as well but the one that reads as follows scares people the most:
Attackers might be trying to steal your information from www.example.com (for example, passwords, messages, or credit cards).
NET::ERR_CERT_COMMON_NAME_INVALID
In these wired times, we all feel afraid of losing our passwords and digital security. So, right at the beginning let us inform you that this Chrome error is very easy to solve. In this article we will learn the reasons behind this error and also how to fix it.
This error appears only in case of the website URLs that begin with https instead of http. The https protocol indicates that data securely transmits on that website using SSL. We will go in more details later in the article.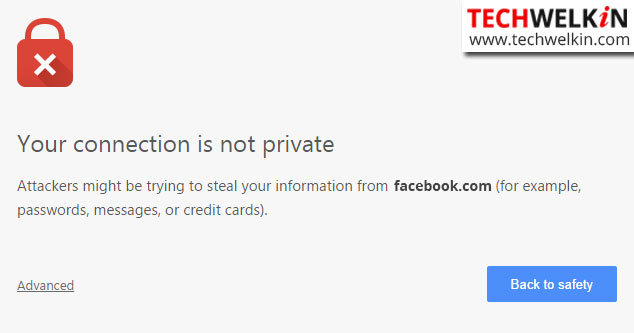 How to Fix "Your Connection is not Private: NET::ERR_CERT_COMMON_NAME_INVALID"
You can take the following steps in order to solve this error. You should go through these steps one by one as we have listed them according to the effectiveness.
STEP 1: Check System Date and Time
First of all you should check the date and time of your computer. In older computers, battery on motherboards become weak after a few years and that is a common cause of wrong system date and time. We will explain later as to why wrong date and time cause this error. At the moment, let's get straight to the point and solve the issue.
Go to Control Panel of your computer
Open Date and Time
See if the date or time is wrong. If so, correct it.
You may notice that the next time you will reboot your computer, date and time settings will again have become wrong. If that is the case, you should change motherboard battery. This battery maintains the on board clock while the system is powered off.
STEP 2: Check Anti-Virus Settings
Because your connection is not private is an SSL related error, it is also important to check your antivirus settings. These software, sometimes, block the SSL certificate of the website and thus Google Chrome throws the SSL error Net::ERR_CERT_DATE_INVALID.
To resolve this issue, check the settings of your antivirus. Essentially, you need to turn off the SSL scanning by antivirus. Different, antivirus software have this setting in different places. Just look for it under Settings option.
If antivirus is configured to scan a website before you browse it, sometimes antivirus may detect a wrong date in SSL certificate of the website. As a result it would assume that your connection with the website is not safe; and thus the error.
STEP 3: Delete Cookies
Like all other browsers, Google Chrome also allows websites to use cookies to track your interaction with them. Sometimes, data in these cookies gets misinterpreted by Chrome. Such an event may force Chrome to show SSL error. If the previous steps did not work, you should delete cookies set by Google chrome browser.
Open Chrome and go to Settings
Type cookies in the search box
Click on Clear browsing data
Select Cookies and other sites and plugin data
Click Clear browsing data button
All Done, But I am Still Getting the Error!
If none of the above methods work and you are still getting the your connection is not private error, it is likely that Google Chrome is just confused and you may opt for proceeding to the website.
Open Chrome and go to the website that is showing you the error
On error page click on the Advanced link
Click on Proceed link. Chrome will ignore the error and will open the website.
Here, we would like to advise caution. If you have been using the website in question and you believe that the website is that of good quality and maintained by a professional, responsible entity — then you can proceed ignoring the your connection is not private error.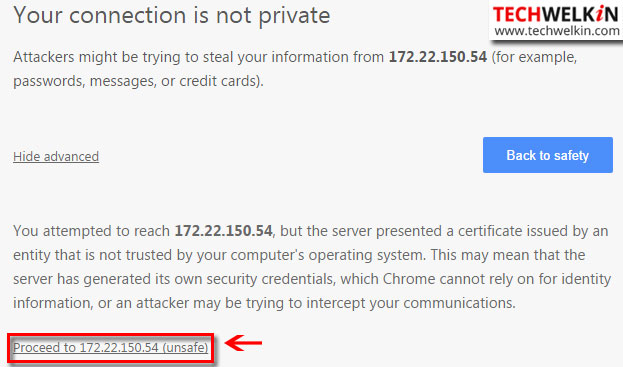 But if you're visiting the website for the first time and it contains adult content (like pornography, gambling, games, adult magazines) then you better drop the idea of visiting the website. You should look for an alternative website that provides similar content or service.
Why does "Your Connection is not Private: NET::ERR_CERT_DATE_INVALID" Error Appears?
A large number of websites on the Internet use SSL to securely transmit user data. For example, when you submit a form or log into a website, the data filled by you travel from your browser to the server in highly encrypted form. This encryption is done by SSL Layer and it helps in keeping the hackers away.
SSL stands for Secure Socket Layer. Every website that uses SSL has to obtain and keep on renewing an SSL certificate that verifies the website. Your connection is not private error usually comes up when your browser is unable to verify the SSL certificate or when the SSL certificate is deemed to be expired. If your system date goes back or forth from the actual date (as it happens when battery is low), then the SSL certificate expiry date would not match.
Here is a nice video that shows how you can change system date and time to resolve the error:
If your antivirus is configured to scan website content as you browse the Internet, sometimes, antivirus fails in the scanning process and then also this error comes up.
We hope that this article was useful for you to solve your connection is not private error in your computer. Should you have any questions or if you know another way to solve this problem, please write in the comments section. Thank you for using TechWelkin!