As you spend a lot of bucks on iPhone, you can be sure that it comes loaded with amazing features. Most iPhone owners must be aware of the Apple's iOS Health App, but not very many may be aware of it's life saving feature – the Medical ID. It contains your health information that you, paramedics or doctors can use during an emergency. Your iPhone's Medical ID helps first responders to access your critical medical information from the Lock screen, without having to enter your passcode. This feature helps provide medical assistance at the earliest to the person concerned. It can also be a useful reference while visiting your doctor. With the iPhone's Health app, you can centralize your health information through manual input or different health accessories that automatically collect it and send to your iPhone.
Have you set up Medical ID on your iPhone? If not, set it now as it could save your life one day!
Setting up Your Medical ID on iPhone
To create your Medical ID:
Launch the Health app and tap Create Medical ID > Edit.
Enter your emergency contact details and health information (for example, name, birth date, blood type, allergies, medical notes etc.)
Toggle the Show When Locked option to ON, so that your medical details are available from the Lock screen. In an emergency, it helps people to access your critical medical information and other relevant details. After entering this information, tap DONE.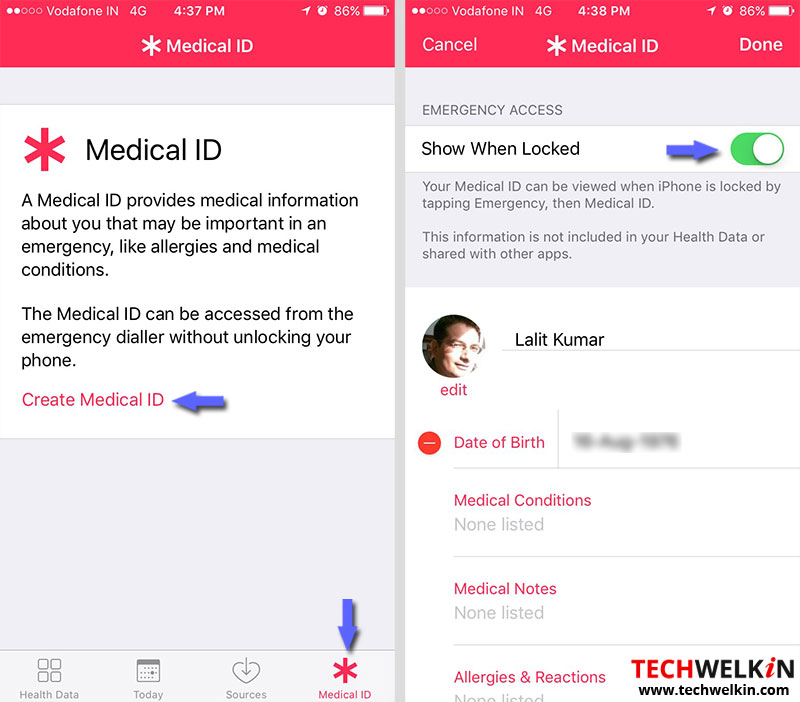 At any given time, you can Edit the medical details by tapping the corresponding button on the screen. Also, if you want, you can even delete your private medical details.
Accessing Medical ID From a Locked iPhone
You can access information contained in a Medical ID from a locked iPhone in case of an emergency.
You can try to unlock and get to the passcode or the password screen as illustrated below.
On both screens, you will see an Emergency option. Tap this option to go to Emergency Call screen, and at the bottom left corner tap on Medical ID to view the user's medical details.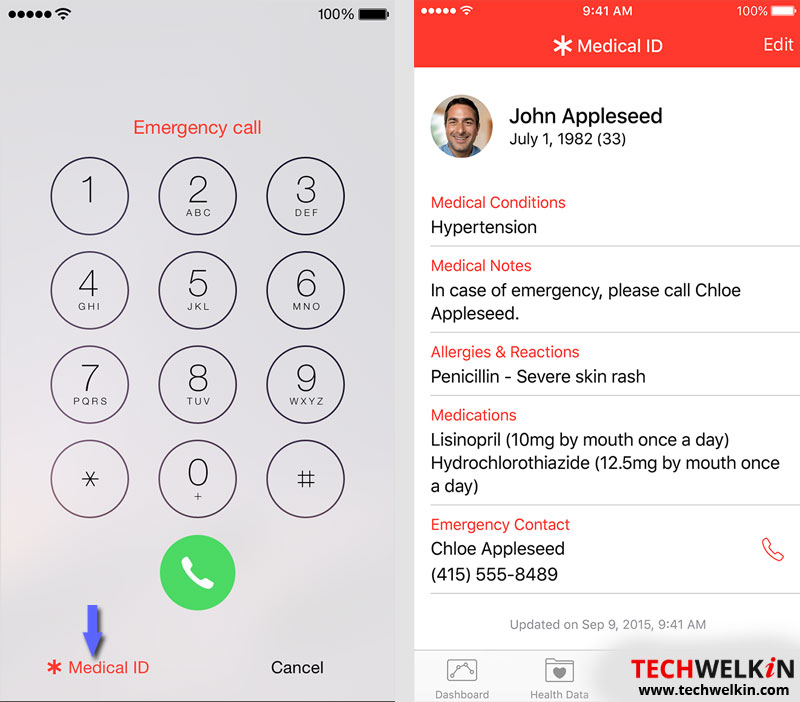 Another commendable feature of the Health app is that it allows you to register as an organ donor. This feature is available only in the US. It is worth appreciating because many of us prevent ourselves from the noble gesture of organ donation for various reasons. However, when the option to become a donor is available on your fingertips, there is no reason to deprive yourself of the opportunity.
Sign Up To Be An Organ Donor Using iPhone
If you are in the United States, you can sign up to become an Organ Donor with the Medical ID.
Launch Health App and tap Medical ID.
Under Organ Donation, tap Sign Up with Donate Life.
Fill out the registration form and tap Continue. To confirm your registration, tap Complete Registration with Donate Life.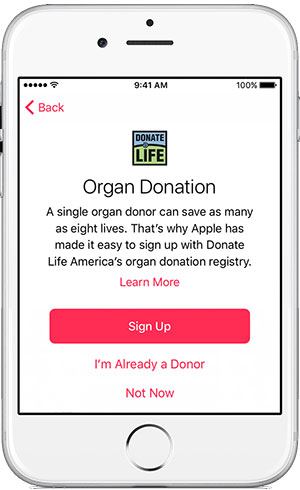 At any given time, you can edit your information or withdraw your registration as organ donor using the Remove Me option.
If you have attempted to create the Medical ID on your iPhone, you must have realized that the feature is actually buried under few taps and not very obvious. As a result, not many iPhone users are aware of this life saving feature. So be sure to share this article with your other iPhone user friends.
Should you have any question on this topic, please feel free to ask in the comments section. We, at TechWelkin and our reader community will try to assist you. Thank you for using TechWelkin!