If you're a first time user of iPhone or iPad, you might find iOS interface a bit confusing. iOS is very different from Android, so you need to learn a few things before you become comfortable with your high priced iPhone or iPad. These things include some very common actions like deleting apps from your iPhone / iPad. New iOS users find it intriguing to remove apps as they see no apparent way to do it. But as I said, iOS works differently! Today we will talk about various ways of deleting the unwanted  apps from iOS.
You should remember that some of the inbuilt apps can not be removed from iOS. These apps are probably too important for iOS to work properly. This is the reason you're not given the option to remove them. Rest of the iOS apps can be easily uninstalled. You may be interested in our recently published list of essential iPhone apps.
Long Press & Wiggle to Uninstall iPhone / iPad Apps
First time users of iOS might find it amusing but if you remove an app's icon from your home screen, the app automatically gets uninstalled. So, it essentially means that you have to keep an icon of all the installed apps somewhere on the home screen of iPhone. If you have too many icons, you can always organize them in folders.
To uninstalled an app from an iOS device:
Long press the app's icon. You will see that all the removable app icons will start wiggling (shaking) and an x sign will appear in the top-left corner of each icon.
Tap on the x sign on the app you want to remove.
A confirmation dialog box will appear. Tap on Delete.
The app and its icon will immediately be uninstalled from your device.
NOTE: If your iPhone supports 3D-Touch, you should make sure that you touch the app icon lightly and then hold it for a moment for the x sign to appear. If you will press the screen too hard, it will instead display the 3D-Touch menu.
In the following combination image, we show how to uninstall, for example, Sarahah app from iPhone.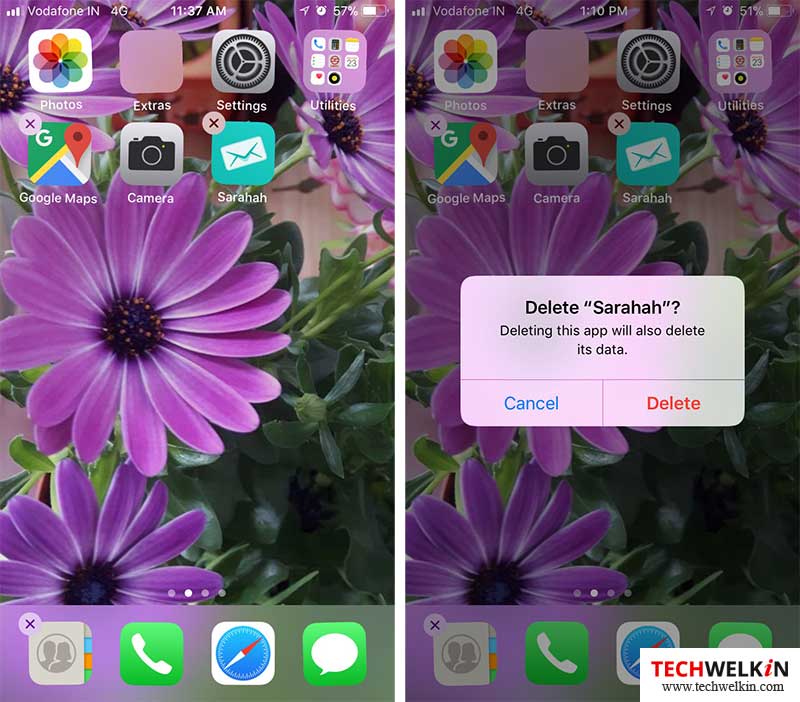 Remove Apps using iPhone Storage
If the first method was quickest, this second method of removing apps helps you in taking a more informed decision. With Settings app, you can see how much space each app is utilizing. Thus, if you are running out of storage space, you can see which unwanted apps are occupying the largest storage chunk. Then you can decide on which apps to remove.
Go to Settings app > General > iPhone Storage (in iOS 11). You will get the list of all the installed apps along with the amount of storage they are using.
Tap on the app you want to remove
Tap on Delete app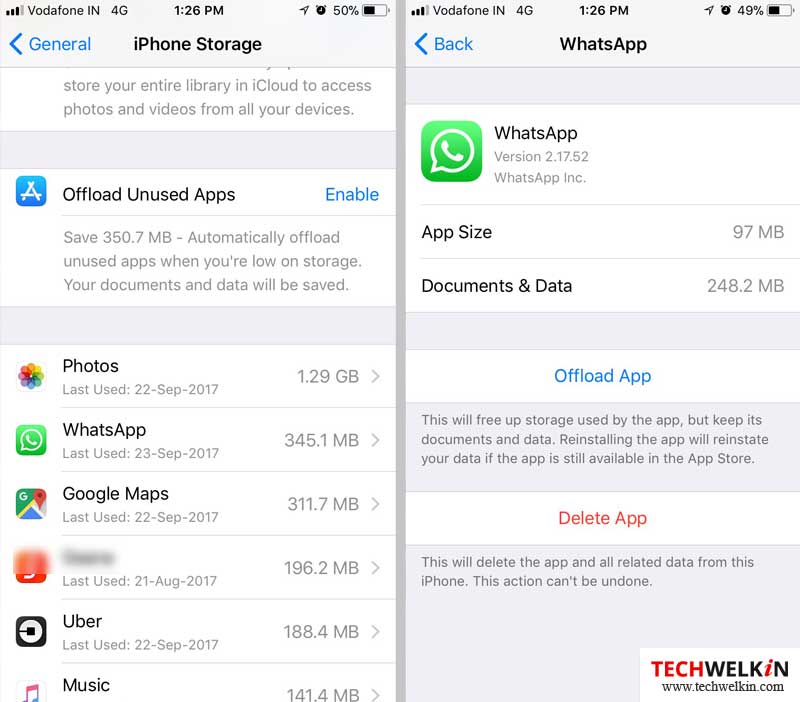 Here you will also get another very useful option to Offload an app. This option allows you to remove the app but all the data associated with that app will be retained. Therefore, if you reinstall the same app in future, you will be able to use the app exactly in the same state as it was before your deleted it.
We hope that this article was useful for you. If you have any question, suggestion or comment about this topic, please feel free to write to us in the comments section given below. We, at TechWelkin and our reader community will try to assist you. Thank you for using TechWelkin!