Government of India has made it mandatory to link one's Aadhaar Card number with their mobile phone number. This rule applies to all the mobile service providers such as Vodafone, Airtel, Reliance Jio, Idea, BSNL, Aircel and Telenor etc. Also, both postpaid and prepaid customers need to link Aadhaar with mobile phone. Many people have have all sorts of questions regarding this process. Today we will clarify various doubts related to this linking process.
Various mobile service providers have been sending an SMS to their subscribers asking them to do this linking. The SMS message may read something like this in Hindi:
"Sarkari nirdeshanusar, aapke mobile number ko Aadhar card se jodna aavashyak hai. Aadhaar link karne ke liye, nazdeeki retailer se sampark karein"
Why to Link Aadhaar with Mobile Number?
Department of Telecommunication, Government of India, has issued a directive to verify all the existing mobile phone numbers in the country.  This verification is required to ascertain the identity of the owner of mobile phone number. As you know that your Aadhaar Card contains all your basic information as well as biometric information to identify you. Thus if your Aadhaar Card gets linked with your mobile number, it will certainly connect your identity with your mobile number.
Documents Required for Linking Aadhaar with Mobile Number
In order to do this linking, you need to be personally present at an outlet of your service provider. You will be required to give your biometric details at the outlet. You will need to following to complete the process:
Photocopy of your Aadhaar Card (also carry the original card for verification)
Your mobile phone (to receive a one-time-password or OTP)
You will also need to provide your fingerprints
Process of Linking Aadhaar with Vodafone / Airtel / Idea Mobile Number
Carry the above mentioned documents to the nearest retail outlet or the authorized center of your respective service provider (like Vodafone, Airtel, Reliance Jio, Idea, BSNL, Aircel etc). For example, if you have a Vodafone SIM Card, you have to go to a Vodafone store — you can not go to a BSNL or Airtel store!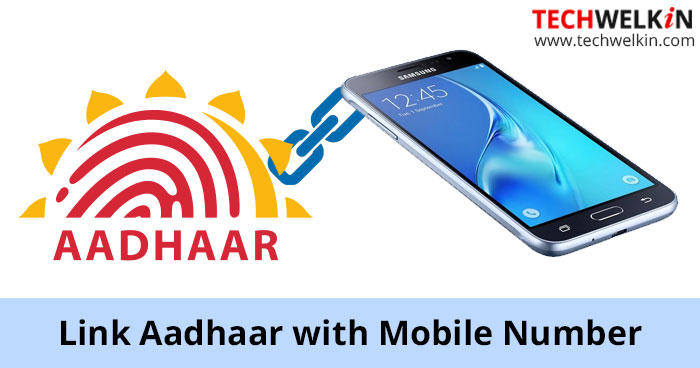 Give your Aadhaar Card photocopy and mobile phone number to the agent at the store
You will receive a 4-digit code as text message in your mobile phone. Give this code to the agent handling your Aadhaar verification
You will be asked to provide your fingerprints on a scanner
Now you will receive a confirmation SMS
Reply to this message with Y
The process is complete. Your mobile phone number has been linked to your Aadhaar Number
Process of Linking Aadhaar with Reliance Jio Mobile Number
Ever since Reliance launched the Jio services, it has been issuing SIM Cards to customers through an e-KYC (Know Your Customer) process. You might remember that you had to give your fingerprints while getting your Jio SIM. If you had given your fingerprints, then your Jio SIM is already linked with your Aadhaar Card.
However, if you somehow got your Jio SIM without going through e-KYC process, then you will have to go to a Jio store and get the linking process done. The process is same as explained in the above section.
How do I Know if My Aadhaar is Already Linked to My Mobile?
It's easy! Just call the Customer Care of your respective service provider and ask them the status of your verification. If they tell you that your details are not Aadhaar-verfied, you better get it done asap.
Link Aadhaar and Mobile Online on a Website
Because you have to provide your fingerprints, it is not possible to do the linking process on any website. Therefore, if anyone tells you about a website where you can link your Aadhaar with mobile number — you should not trust them. You would need to personally visit your mobile service provider's store to complete this process. Also, nobody else can go on your behalf because you have to provide your fingerprints.
Is it Dangerous to Give Fingerprints to Mobile Service Provider?
Well, honestly, we don't know! We can only assume that the government has taken steps for the safety of our documents and biometric data. We may not trust the mobile service provider, however, we have no choice but to trust the government and follow their policy.
I had Given My Aadhaar Number When I Bought My SIM, Do I Still Need to Do Linking?
Yes. This linking is re-verification of your Aadhaar details. So, even if you had given your Aadhaar details at the time of purchasing your SIM Card, you will still need to go to the store again and do the linking.
I Still don't have My Aadhaar Card. What do I do?
As you might have noticed, nowadays Aadhaar Card is becoming an all important document. It is becoming more and more mandatory to have this card. So, if you want your mobile connection to remain active, you should get your Aadhaar Card and get it linked with your mobile number asap.
What if I don't Comply?
If you do not link your Aadhaar Card with mobile number before 06 February 2018, your phone number will be disconnected. You will not be able to make or receive any calls or messages.
I have Multiple Phone Numbers
If you have more than one SIM cards, you will have to separately link each of them with your Aadhaar number. If you are using a phone with dual SIM cards, you need to link both the SIM separately with Aadhaar. Don't think that linking one SIM will automatically link all the other SIMs.
Is There Any Fee for This Process?
No. This linking process is completely free. If anyone at your service provider's outlet asks for any payment related with the linking process, you should call the customer care and make a complaint.
We hope that this article clarified all your doubts about the process. Should you have any more questions, please feel free to ask. Also, if you have any new information about linking of Aadhaar with mobile phone, please share with us so that other readers could also benefit from it. Thank you for using TechWelkin!