You might have seen various posts on Facebook informing you that if you type @[4:0] in comment or in your Facebook status update, name of Mark Zuckerberg will appear. Many people feel that this is some kind of magic. Then there are folks who take gullible Facebook users for a ride. They tell Facebook users that if you type @[4:0] and Mark Zuckerberg's name appears — that means your Facebook account is safe, otherwise it has been hacked by someone. And innocent people begin to worry!
We have been publishing truths of various Facebook lies, scams, problems and viruses. So, we investigated this @[4:0] matter as well. We found that it is true if you type these letters in Facebook and press enter, name of the Facebook co-founder appears. But it has no connection whatsoever with the security of your FB account. Also there is no 'magic' behind it. In this article we will tell you why Mark's name appears when @[4:0] is typed.
Why does Mark Zuckerberg appears When You Type @[4:0] in FB?
As you know, Mark Zuckerberg started Facebook in 2004 while studying at Harvard. Facebook has a facility of tagging other users in a post or comment. In order to tag someone we have to type that person's Facebook user name prefixed with the @ sign (e.g. @Lalit Kumar).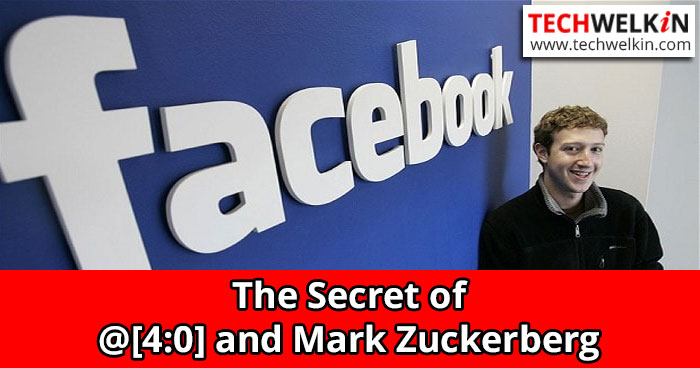 But internally, Facebook actually tags a person by his/her Facebook account number. Mark Zuckerberg was the 4th person to create an account on Facebook. So, his account number is 4 and therefore when you @[4:0] , Mark Zuckerberg's name gets tagged.
wow! that was a cool thing to know about Mark! But did you also know why Facebook is blue?
In fact, instead of 4 if you will type account number of anyone else, that person's or page's FB name will appear in comment or post. For example, @[121037708001617:0] points to the FB page of TechWelkin.
Note: TechWelkin has a tool to find Facebook ID of any profile or page.
Now, you might be wondering which were the first three accounts on Facebook?! Well, the first three accounts were probably test accounts and were deleted. So, effectively Mark's account is now the first account made on Facebook although its number is 4. The fifth account belongs to Mark's Harvard room-mate Chris Hughes and sixth account belongs to another room-mate Dustin Moskovitz.
Why doesn't the Name Appear in Every Case?
We guess Facebook is slowly removing this bug from their system. Those users whose account has been updated with new code, they will not see Mark Zuckerberg's name when they type @[4:0] and press enter. Those users whose account is yet to be updated, they will see the name.
Is my Facebook Account Safe?
This little bug has no potential of harming your Facebook account. Mark's name appears or not, please rest assured that it doesn't make any difference. However, you must always be alert about the safety of your Facebook account. Always use a strong password and do not share sensitive details with anyone else. Women and children must be particularly careful about how they use Facebook.
We hope that this article satisfied your curiosity and alleviated your concern about the safety your Facebook account. Please do not believe just about anything on Facebook. Social media platforms are full of lies — use your judgement and reason before believing and sharing.
Should you have any questions, suggestion or comment about this topic, please use the comments section below. Thank you for using TechWelkin!