These days the smartphones have become an inseparable part of our lives. Our emotions, feelings, relationships, secrets, bank details, photographs et al, resides on our smartphone. We always protect our phone from prying and snooping friends, colleagues, siblings, and get offended if they touch our phone or try to look at the apps installed. In such scenarios, you wonder if you could lock your phone so that nobody can open or use it. Well, have you ever tried to lock the specific apps on your phone? Besides protecting your phone from people you know, you should also be able to protect it against intruders who can misuse the details or make an unwanted calls that could land you in trouble.
For the safety of your phone, you should do the following:
Use app locking apps to lock your phone and specific apps.
On Android, you can also remotely lock your lost mobile phone.
Use a strong passcode or a strong lock pattern to safeguard your phone.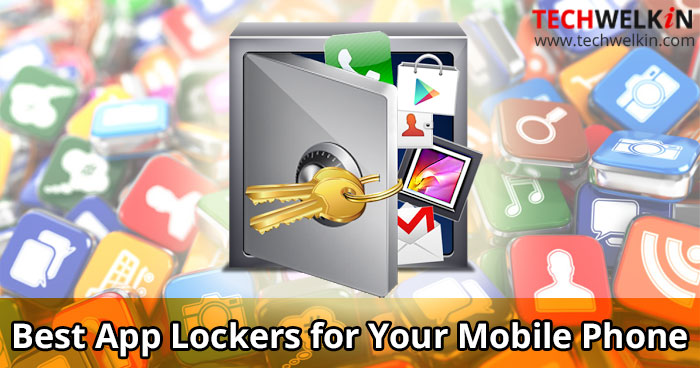 Now, there are quite a few app locks available in the Play Store that protects your privacy and phone against any misuse. This article will list few such apps to help you choose the best that meets your requirement.
1. AppLock
AppLock is undoubtedly one of the best security tools from the Play Store. It is a free app with commendable features. Like all app locks, it allows you to lock the apps individually but is a bit different. You can change the pattern lock to a numeric lock and do not forget to memorize the numbers you are punching, lest your own apps lock you out! Another feature worth highlighting is that you can set specific profiles for each category like home, friends, guest etc., and create shortcuts for each on the home screen. You can access the shortcuts by typing in your passcode. You can customize profiles further by allowing access to only certain apps. It includes options to ensure that the app locking triggers at a certain time or location.
With the AppLock, you can lock apps as well as various Android toggles like Wi-Fi, Bluetooth, and mobile data. You can choose to hide the app, prevent un-installation, and set up a delay for re-locking. It also includes security questions, power-saving mode, quick lock switch, and various themes.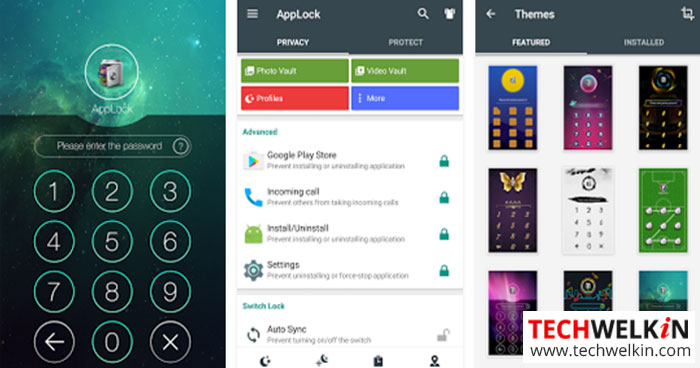 This wonder app is free with in-app purchase. Download from Play Store
2. Perfect AppLock
With Perfect AppLock, you can protect any application with PIN, pattern, gesture, and text password. You can lock Whatsapp, Facebook, Twitter, Skype, SMS, Email, Gallery, etc. The best part is that the free version and the Pro version have the same features, but the former includes annoying ads.
It effectively manages the screen brightness of individual apps and prevents screen rotation on each app. It locks incoming and outgoing calls, app install or uninstall and throws a fake error message if you try to launch the locked app. The app captures the intruder's picture after three continuous failed attempts to access the phone. Perfect AppLock also supports time and Wi-Fi based locking. You can remotely start the AppLock service with the SMS command. This app is not suitable for phones with a smaller screen.
3. Smart AppLock
Smart AppLock provides an effective and reliable way of mitigating the security risk if your phone ever falls into the wrong hands. Smart AppLock is indeed smart; it locks incoming and outgoing calls, app install or uninstall and displays a fake error message if you try to launch the locked app. Its user-friendly interface locks Google Play Store and any other app stores on your phone. It supports Android 2.3 and above. For a free app, it definitely supports almost all the features that you might need to secure your phone.
4. Norton App Lock
Norton App Lock provides special Android permissions to safeguard your sensitive apps. It is efficient, secure, can lock apps with PIN passcode, fingerprint or pattern. You can use the same 4-digit PIN passcode to lock one or more apps. With minimum but efficient features, this app is worth a try. You can provide admin privileges to prevent uninstalling of the apps. The app also includes an option to set the recovery mail.
Three consecutive failed attempts to access the device will capture the intruder's picture. Intruders beware!
Download this app
5. Privacy Knight AppLock
Privacy Knight AppLock is lightweight app that protects your privacy from annoying snoopers and prying eyes.  Privacy Knight is a battery-saver App Lock that is fully compatible with Android Marshmallow. This free app lets you lock apps with PIN or pattern, fingerprint, face tracking or through a disguise cover like blow to unlock, shake, or a crash message. Along with apps, you can lock incoming calls, prevent uninstalling, and hide notification preview from apps. This app too captures pictures of intruders.
The app includes additional features like photos & videos vault, checks for privacy issues and clears browser history. It helps you to reset your passcode via Gmail validation or security question.
6. Apps Lock & Gallery Hider
App Lock & Gallery Hider is free and can lock any system app or downloaded app with various options to protect your privacy.
In addition, it can lock settings, task manager, photos, videos. This app can encrypts media and hide the app's icon from the main menu. It includes a widget for quick locking and unlocking and prevents uninstaling by intruders. You can lock apps using PIN or pattern. You can hide the PIN or the pattern from the password page and set a short time to disable the password. The app provides an additional layer of security by shuffling the keys on the password page.
7. Hexlock App Lock
Hexlock App Lock is a handy app that helps you lock your apps with ease. It is free with in-app purchase. With an impressive user interface, the app supports fingerprint locking for apps on Samsung devices only. It includes lock screen customization; uninstall prevention, and notifications to lock new apps. With Hexlock, you can automatically enable a profile based on the Wi-Fi network your device is connected to. The app captures photos and saves the location of the intruder attempting to unlock the apps.
8. KeepSafe App Lock
The KeepSafe App Lock app is the simplest of all the app lockers available. The app has a simple yet appealing user interface that supports locking through PIN, pattern and fingerprints. It includes options to set delay on when the apps are re-locked, prevents uninstallation and hides PIN touches. If required you can disable the app temporarily for a few hours. The free version of the app includes ads but you can make an in-app purchase to remove the ads in the app.
9. App Locker: Fingerprint & Pin
App Locker is not so popular app but includes unique features. The user interface is not visually appealing but when you start using the app, you can actually ignore the UI's looks. The app includes all the basic and the usual lock features. The unique feature is that the App Locker lets you set custom lock settings on a per app basis. The option enables you to set the primary lock method for an app to fingerprint, and pattern as the primary method for another app. Besides that, the app lets you choose a crash cover, set app re-lock delay and more. The free version includes ads but you can remove the ads by purchasing the full version of the app.
10. FingerSecurity
FingerSecurity is an app locker for Android and known for its features. The app lets you lock apps via fingerprint. You can enable the improved protection features to ensure that part of the app, and the app's data is invisible in the "recents" screen. Like most apps, it prevents uninstalls, helps you set a time-out, which is the delay in re-locking apps, along with options to theme the fingerprint indicator.
The free version of the app has limited features but the premium version includes additional features, like the ability to change the background of the lock page, set safe locations, detect intruders, set up a fake crash, and more.
The listed app locks are some of the best; however, there is no dearth of app locks in the App Store. Some are free while some are paid versions. You have the choice to pick the best that fits your requirement.
Should you have any question on this topic, please feel free to ask in the comments section. We, at TechWelkin and our reader community will try to assist you. Thank you for using TechWelkin!