Smartphones have great cameras built in, yet their design can leave something to be desired. But not so with the Samsung Galaxy smartphones,  as the built in camera is loaded with some really handy features. One such features is the Samsung Galaxy's Camera Quick Launch. This feature is available in Samsung Galaxy mobile phones and most of the lower end models as well. Anybody who uses smartphone camera extensively, quick launch feature is indeed a handy one. I use the phone camera extensively because I "click to record". It means I click everything that I need to remember — book and author names in a bookshop, driving license, hand scribbled grocery list, et al. If you want your phone camera to be ever ready to quickly shoot a picture then you definitely need to enable this feature.
Enable Camera Quick Launch in Samsung Mobiles
In most phones the Camera Quick Launch feature is disabled by default. To enable the feature:
Start your Camera app and go to Settings > Quick Launch and slide the toggle to On position

Alternatively go the Settings > Applications > Application Settings > Camera. In the Camera settings page select Quick Launch and slide the toggle to On, to enable the feature as displayed below.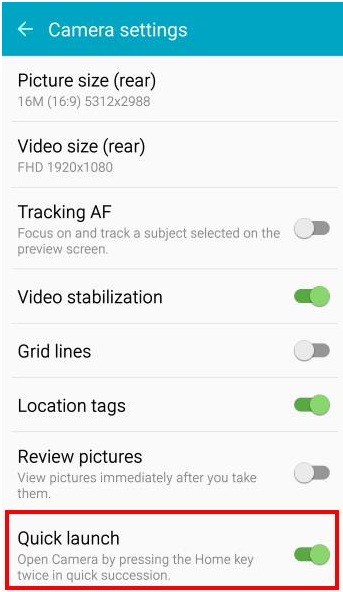 After enabling the feature, you should be able to quick launch the camera from the Lock screen or from the Home screen.
Use Camera Quick Launch Feature
Once quick launch is enabled, you can access the camera from:
Lock screen — swipe and tap the camera icon to launch the camera app.
Home screen — press the Home key twice in quick successions to launch the camera app. This method launches the app even if your screen is locked.

Depending on your configuration, if your camera is available in your Home screen you can launch it with a single tap.
With Quick Launch enabled, you are now free to click photos and selfies instantly as required. The methods mentioned above work for all the models of Samsung Galaxy.
A Handy Tip
If your camera has the Gesture Control option, enable it. Gesture Control and Quick Launch are a boon for people who love to click photos often. Press the Home button twice, focus and hold your other hand out with your palm facing the camera. After few seconds, Lo and behold!, you just clicked your picture without any hassle!
Should you have any question on this topic, please feel free to ask in the comments section. We at TechWelkin and our reader community will try to assist you. Thank you for using TechWelkin!