Nowadays, an internet meme is in viral circulation on social media. The image shows Google Image search results for South Indian Masala vs. North Indian Masala. The word masala is Hindi for spice. As the image reveals, Google shows photos of south Indian actresses when you search for south Indian masala… but it shows the obvious images of various spices when you search for north Indian masala. Some people are using this image as a social media joke. Some others are outraged on the blatant sexism involved. And some people are asking why Google is showing photos of south Indian actresses when someone search for south Indian masala keywords?!
To know the answer to this question, we would need to understand how the Google search engine works. This whole viral phenomenon has two aspects to it:
Google's functioning, and
Collective mindset of the Indian society
The content of this viral image is certainly sexist. But the rapid circulation of this image also shows that the Indian society is sexist by and large.
Why is Google Showing Actresses' Photos for Keywords 'South Indian Masala'?
In India, a lot of people see women stereotyped as an object that can be possessed and used. Rampant use of words like maal, item, saamaan… and masaala points to this very objectification of women. People use these words in day-to-day conversations and this mentality has also found its way to the Internet.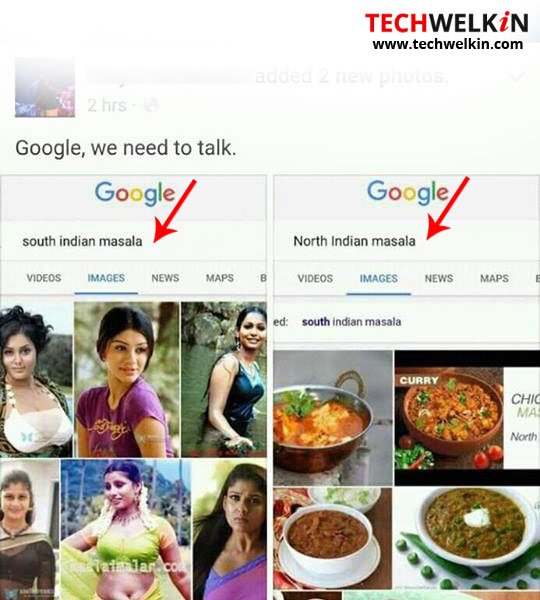 There are a huge number of websites and blogs that host exposing photos of south Indian actresses and also of women who are not actors. These photos are often tagged with words like masala. A number such websites are fake and are used to lure men for spreading menace like malware, computer viruses and even dark web stuff.
Google Images search engine uses these tags to understand what an image is all about. When Google's algorithm finds tags like masala attached to a woman's photo, it tends to believe it because there are thousands of such websites with millions of such photos. Although, Google's Image search is pretty smart on its own but when a large number of humans tag a woman's photo with masala — the computer algorithm gives significant weightage to the human opinion. That is the reason behind this viral image.
Yes, Google should be more careful in determining the photo content, but the real culprit is the mindset of Indian society.
Why does not Google show Women's Photos for 'North Indian Masala'?
As I explained above, it is all about how much weightage Google's algorithm gives to its own opinion and how much to the human opinion found on millions of websites. Probably masala could be a more 'popular' terms to describe photos of south Indian actresses. Objectifying words like maal, saamaan and item are more heard of in north India due to the effect of Bollywood films. So, when someone searches for 'north Indian masala', Google does not get confused and correctly shows spices used in north Indian dishes like butter chicken, chhole etc.
In the past, Google has taken corrective steps to rectify such incorrect image results. Probably, Google makes manual tweaks in search results for specific keywords. In this case too, Google should take immediate action and remove the incorrect images from the results for innocuous keywords south Indian masala.
We hope that this article clarified your doubts on this topic. Please feel free to ask any questions in the comments section. Thank you for using TechWelkin!