The Messages app in iPhone has always been a talked about app because of its many fun features like animated stickers, drawings, message animations etc. While using all the features to make the messages interesting one tends to lose track of the messages that pile up. This becomes a challenge when you need to search for an important message that you need to refer. To avoid such a situation you need to delete some of the older messages that you do not need to retain permanently. This will also help you in freeing up some storage space.
SEE ALSO: How to remove apps from iPhone to free-up storage
On iPhone, one actually needs to understand how to delete a message efficiently without messing up things. Let us look at the various methods of deleting text messages on iPhone.
Deleting Specific Messages from a Conversation
Sometimes you may not want to delete a whole conversation, as you would want to retain part of it for future reference. In such a situation, you can delete only specific unnecessary messages from the conversation.
NOTE: Depending on the iOS version that you are using the options may vary a little.
Open your Messages app:
Tap the conversation from which you want to delete specific messages.
Tap and hold the message, from the pop-up select More to display the selection buttons.

Select the messages that you want to delete from the thread and tap the Trashcan icon at the bottom left as displayed in the above illustration.
Your iPhone or iPad will ask you to confirm if you want to really delete messages. Just confirm and selected messages will be gone.
Deleting an Entire Conversation
You can delete an entire conversation anytime you want.
Open the messages app.
Swipe left on the conversation you want to delete.
Tap Delete.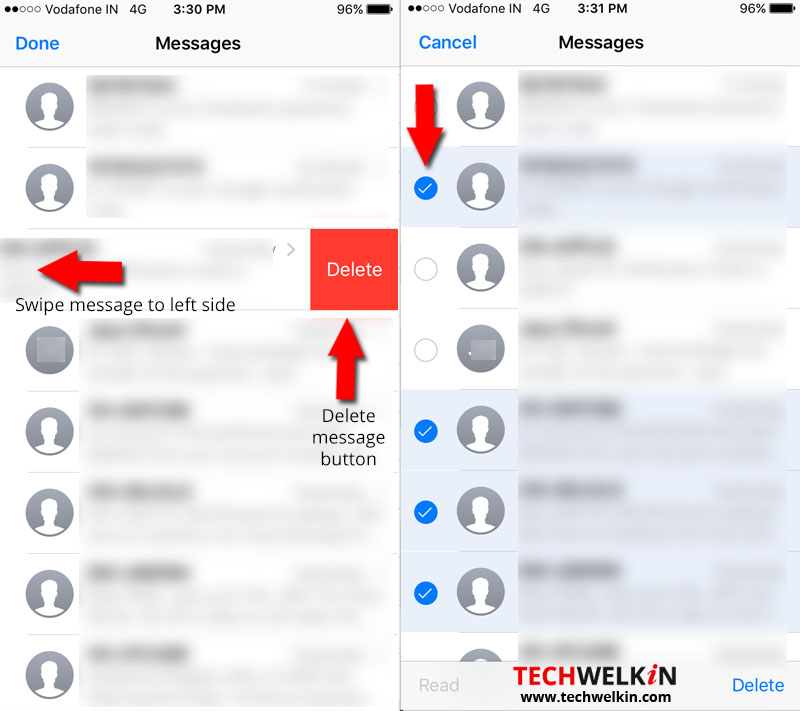 Deleting Multiple Conversations
You can select multiple conversations to delete at one go.
Open the messages app, and tap Edit on the lower left corner.
Select the messages you want to delete.
Tap Delete on the lower right corner.
Deleting All Old Messages
If you have bulk of old messages that you want to delete at once without having to select each conversation, here is the method.
Go to Settings > Messages > Keep Messages.
You can choose the duration to retain the messages – 30 days, 1 year, or Forever.
Probably your current option is set to Forever. Suppose you want to retain messages that are 30 days old and delete the rest.
Set the Keep Messages option to 30 days. A warning will display that all messages older that 30 days will be deleted automatically.
A corresponding message will display if you change the setting to 1 year.
Some More Useful Tips
Recover Deleted Messages
It is possible to recover deleted messages from your iPhone or iPad.
Spotlight Search
As an iPhone user, you must be aware of the fact that messages show up in Spotlight Search as well. Chances are too personal messages popping up in your Spotlight Search could be awkward. Do not worry; you can always prevent it from displaying.
Go to Settings > General > Spotlight Search.
Scroll down to Messages and toggle the button to Off.
Prevent Message Recovery
We all know that we can recover the deleted messages if required. For various reasons you may want to ensure that no one can recover your messages, especially if you are lending your device to someone for few days or you are selling your phone off.
Go to Settings > General > Reset > Reset All Content and Settings.
If you have a passcode set, enter it when prompted.
NOTE: This option will delete everything on your iPhone including the messages. So ensure that you backup your photos, music, mails etc. that you want to retain. Resetting will reset your iPhone to its original factory settings.
Syncing iPhone with iTunes
Suppose you do not want the deleted messages to be recovered at any point of time but do not want to take a backup or delete the other items on the phone, how do you do it?
When you sync your iPhone with iTunes, the messages will be permanently deleted from iOS and cannot be recovered.
Open iTunes and connect your iPhone to your computer.
Click the iPhone icon in the iTunes app.

Select the apps, photos, music etc. that you want to sync (retain) and select Apply. Your iPhone will sync with iTunes.
De-cluttering helps in life to start afresh and the same holds true for your devices too. Get rid of the messages that are not required to make space or just to manage the messages efficiently.
Should you have any question on this topic, please feel free to ask in the comments section. We, at TechWelkin and our reader community will try to assist you. Thank you for using TechWelkin!