These days everybody you know owns an expensive smartphone with an equally expensive mobile service plan. Have you ever thought of forgoing the SIM service plan but still use the smartphone in smarter ways? Maybe not the new phone but the old phone that you are about to discard?  It is all about making your tools serve your goals and explore their potential. However, the service plans are country specific so many of our readers may not have thought of using a smartphone minus the SIM card services. The potential benefit of using a smartphone sans the SIM are powerful and worth exploring.
Let us take a look at how to use a smartphone without a SIM card or an active service plan.
Can a phone work without a SIM card?
Yes, a smartphone can work without a SIM card if it is connected to a Wi-Fi network as it can route its calls through that network. I have used my old Samsung Duos GT-S7562 to test the working of each detail mentioned.  Most of the Android based apps need an active phone number to create and authenticate the Google account. After verification, the SIM can be removed as the apps do not require a SIM card or a service plan to functions seamlessly.
A SIM card holds the International Mobile Subscriber Identity or IMSI. It identifies the user in the operator's network and authenticates the user with the cellular service provider. It then establishes the location of the user, and stores it in the operator's Home Location Register – HLR. It is the main database of permanent subscriber information for a mobile network. If the call is not being routed through the operator's network then a SIM card is not required. For example, a Wi-Fi call is not routed through the operator's network.
Please note that SIM card is part of GSM based networks. Those of you who are still using CDMA network, you may not have a SIM card in your handset.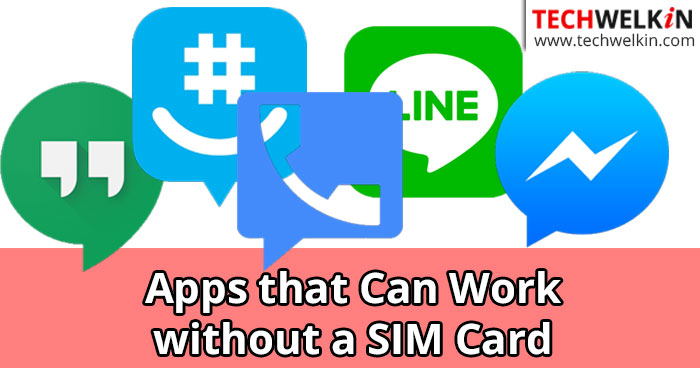 Now let us take a look at how to use a smartphone without a SIM, or an active cell phone plan. These tips are also handy if your phone is not getting enough signal strength. As long as you are near a local Wi-Fi connection, you can use your smartphone to:
Communicate via Skype, Hangouts
Use Facebook Messenger
Make Skype, Whatsapp or Viber calls
Have Group/Video Chats
Download or listen to music
Download or watch movies and videos
Download and play games
Send receive emails
Use WhatsApp for Texting and Voice Calls
Most apps can be downloaded and installed without a SIM card. However, WhatsApp is slightly different. When you install WhatsApp on your phone, it asks for a phone number to send the verification code required to activate your account. After the verification code is sent to the phone number and the account successfully verified you do not need the SIM card to send WhatsApp messages and calls. All you need is an internet connection to continue using WhatsApp to send and receive messages and calls. The SIM card that you used to activate WhatsApp on your smartphone can be used on another regular phone without internet to send and receive GSM calls. After all you do need to keep in touch with friends who do not use WhatsApp!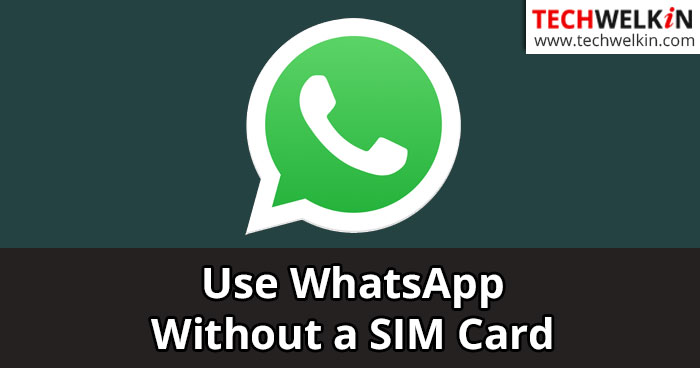 Please note there are quite a few tweaks available on the internet to install and activate WhatsApp without a SIM, activating the airplane mode and bypassing the phone verification and using the landline number for verification. In spite of multiple attempts, unfortunately, none of the tweaks worked for me. Therefore, as a user my experience is that you do need a SIM card and phone number to activate the WhatsApp service.
In some countries, you can download and use a free messaging app called TextNow. The app gives you a unique phone number that you can use to verify WhatsApp. TextNow is not supported in all countries, including India.
Use Viber for Voice Calls Without a SIM
If you are traveling abroad, you can use free Viber to Viber calls and messages over Wi-Fi even if you are using a different SIM than the one used to verify Viber activation. However, do remember that if you are making a Viber call over Wi-Fi to a non Viber number, it will be chargeable.
Use Skype Without a SIM Card
If you are a Skype user and want to use a smartphone minus the SIM — then just hook up to the local Wi-Fi at home, office, coffee shop or mall. As long as the people you wish to connect have a Skype client installed on their phone or computer; you can communicate with them smoothly.
Skype is very convenient as it works on almost any mobile or stationary device. This really makes it easier for people on Skype irrespective of whether they own a smartphone or not.
Calling within India from Skype to mobiles and landlines is no longer available. You can still make free Skype to Skype calls within India, and you can still call mobiles and landlines in India from outside the country and make calls from India to other countries.
Use Facebook without a SIM card
On my phone without a SIM card, I could download & install Facebook and create a dummy account to test without any issues. Facebook has a calling feature with its standalone messenger app. So what are you waiting for? Just start using your old Android device to its full potential minus the SIM. Go the Facebook way!
Use Twitter without a SIM card
You can continue Tweeting without a phone number. You can create a Twitter account and verify it via email as long as you are using Wi-Fi.
Use Google Services without a SIM card
Google's Allo can send texts and picture messages, and for voice calls there is Google Voice. It allows users to make calls over the Internet. You can port your old phone number into Google Voice, and still receive calls through Google Voice using an active Wi-Fi connection. Apps like Hangouts let you make VoIP calls without any carrier involvement provided you have access to good Wi-Fi connections.
Now you know that you can continue to use your Android device to make and receive calls and messages, share videos etc. I am sure you already know that even without the internet too you can continue to play the pre-installed games, listen to music, click pictures with the mobile phone camera, use the clock and alarm, shoot videos, use the notepad etc. In short you can use your old Android device like a Wi-Fi enabled tablet!
Disadvantages of using Mobile Phone without SIM
The possibilities are endless with an old Android device. But, a device without a SIM card has its flip side too. Dropping your cell phone plan is not a good idea for everyone. If you do not have an active SIM card in your phone:
You cannot make an emergency call unless you have Wi-Fi access.
You cannot receive or send GSM calls.
Unless you have access to a robust Wi-Fi, you cannot move around in the house or office while making a voice call.
Besides, the above mentioned apps, if you have tried other apps that continue to function seamlessly without a SIM or a cellular service, please do share with us.
Should you have any question on this topic, please feel free to ask in the comments section. We at TechWelkin and our reader community will try to assist you. Thank you for using TechWelkin!