WhatsApp Messenger is the most popular mobile chatting apps amongst all the other similar messenger apps. The company keeps introducing new features often. Some of the features are good while the others are not up to the mark. The most recent feature being the changes in the WhatsApp status feature. I would love to roll back to the earlier version wherein I could write my status and update as required. Ever since the company started sharing certain WhatsApp user data with "Facebook family of companies", many have been looking for WhatsApp alternatives. Maybe some of our readers might have already switched to an alternative app, others who are yet to decide, here is a list of the best mobile apps for chatting to choose from.
Viber
Feature wise Viber is almost similar to WhatsApp. It too uses mobile contact numbers to identify users and to activate the app by sending an access code to your mobile number via text message. Viber offers end-to-end encryption in calls, messages and the shared media. It saves messages on multiple devices and encrypts them.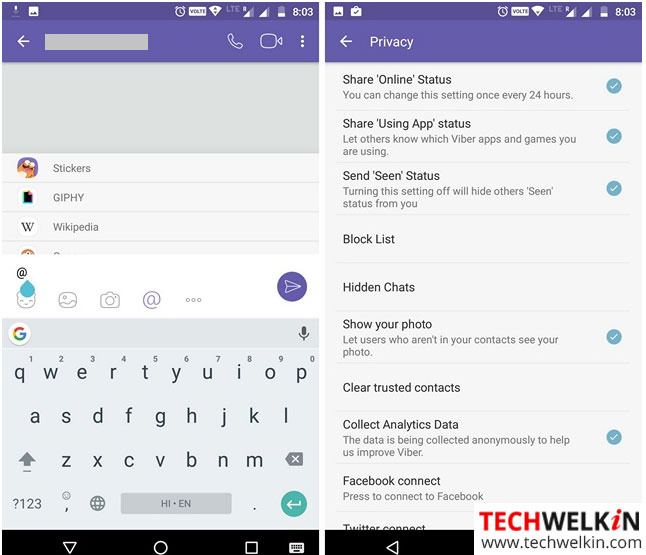 Viber supports stickers, file sharing, last seen, voice & video messages, public accounts, backup to Google Drive, a sticker store and Viber games. You can play the games within Viber and make video and voice calls.  The app's Viber Out Call service is the most welcome feature. The service allows Viber users to call any phone number at low rates, including non-Viber landline and mobile numbers.
Viber is free and it is supported on Android, iOS, Windows Phone, Windows.
LINE
Another free and popular WhatsApp alternative is LINE, a cross-platform messaging app that is loaded with features. LINE supports end-to-end encryption, voice and video calls & messages and more. This app too supports LINE Out wherein you can make calls to non-LINE users, and sticker store. LINE Keep allows you to save your favorite messages, photos etc.  With LINE Timeline, you can share daily moments with your contacts. You can also follow the official accounts of your favorite artists, celebrities, brands, and TV shows for exclusive news, promotions, and more.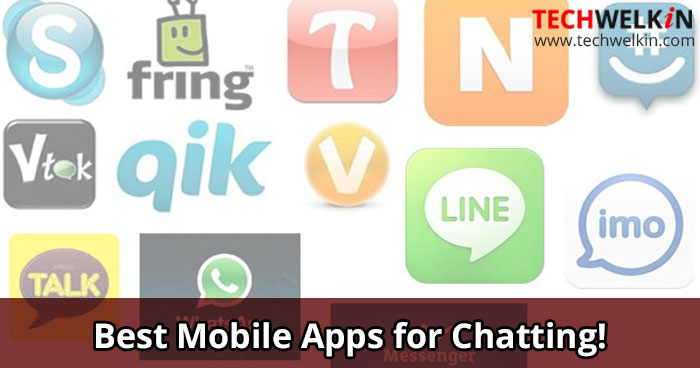 LINE includes passcode lock, filter messages, themes, LINE Pay for payments, and more. LINE is an efficient and a feature-rich messaging app so you may find it a bit bloated. LINE is available for iPhone, Android, Windows Phone, BlackBerry, Nokia and your PC.
Google Allo
Google Allo is an instant messaging app, includes the Google Assistant, and provides a Smart Reply function that allows you to reply to messages with automatic suggestions instead of typing. Allo supports Incognito Chats with end-to-end encryption and self-destructing messages.
You can use the Google Assistant to get the latest updates on weather, flights, news, nearby places etc. You can also use it to set alarms, reminders, navigate to places, and play games.  Allo has some interesting features but lacks the ability to backup chats; make voice or video calls, last seen, status and file sharing. This free app is supported on Android and iOS.
Telegram Messengers
Telegram Messenger has been a known WhatsApp competitor.  The open-source messaging app includes some cool features. Along with the usual messaging features, Telegram includes super groups of up to 5,000 people, public channels, usernames, ability to share files of up to 1.5 GB, passcode lock, self-destructing messages and end-to-end encryption in secret chat etc.
The Telegram Bots enhances the user experience by bringing you important information on the go. It includes game bots that let you play games within the messaging app. Telegram allows you to access your messages from all your devices at once. For example, you can start typing on your phone and finish the message from your tablet or laptop. The only drawback of Telegram app is that the app does not support voice and video calls.
This free app does not include ads and supports Android, iOS, Windows Phone, Windows, Mac, Linux, and Web.
Wire
Wire messenger, although new kid on the block, is gaining popularity for its unique features and visually pleasing interface. Wire is a feature-rich, open-source app that supports end-to-end encryption for everything you send within the app. Just like Telegram, it allows you to access your messages from all your devices at once.
Wire also bundles a number of unique features like group video calls (supports 10 people), self-destructing messages, ability to delete messages from the recipient devices, link previews and more.
Signal Private Messenger
Signal Private Messenger is a simple and secure messaging app.  The app offers self-destructing messages, screen security (i.e. it prevents you from taking screenshots), and more. The app supports encryption to its backups, calls and all  other data in the app. It also supports SMS but lacks file sharing, video calling and cross-platform support.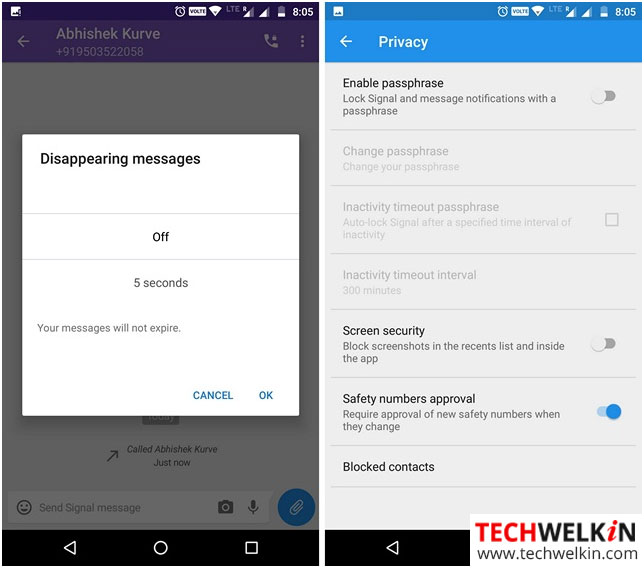 Wickr
Wickr is a free end-to-end encrypted text, video, picture and voice messenger with full sender control. You can set the expiration time on all your messaging content and is an ads free app. You can send and receive secure messages, documents, pictures, videos and audio files and your address book is never stored on Wickr servers. Your Wickr ID is anonymous to all outside your Wickr network, and your conversations can not be tracked, intercepted or monitored.
Wickr deletes all metadata from its communications and its Secure File Shredder feature irreversibly removes all deleted messages, images, and video content from your device. The app allows you to communicate with groups of up to 10 contacts and supports stickers, graffiti and photo filters.  Wickr is available for iOS, Android
Threema
A phone number or email address is not required to use Threema. Each Threema user receives a random Threema ID for identification and this unique feature allows you to use the app anonymously. It is a secure messaging app, and encrypts the messages, shared files, and even status updates. The app's  features are certainly impressive, it does not collect metadata and offers various encrypted backup options. Threema is open-source and has a very transparent privacy policy.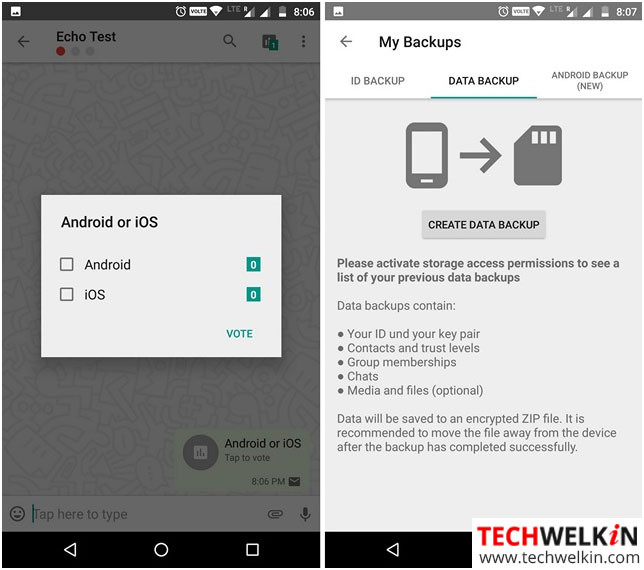 It includes all the common messenger features and few unique ones like the ability to create a poll in groups, password or fingerprint-protected chats, anonymous chatting, verification of the identity of a contact by scanning their personal QR code, and the ability to reply with the agree/disagree feature.
Threema is a paid app and supports Android, iOS and Web. The app can be purchased for $2.99.
Tango
Tango is supposed to be the best video calling app. It works on smartphones and tablets, and you can send and receive text, stickers, photos, video, audio and location messages for free. You can make free voice calls and video calls. While you are video calling you can continue to send stickers, add filters, and play games within the app. You can chat with your contacts or use the public chat rooms for group chatting. Tango is available on iOS, Android, and Windows Phone.
Kik
Kik lets you connect with friends and groups through chat. It is the easiest way to connect with your friends and does not require a phone number. It is a cross-platform smartphone application and allows you to create a free account by using your email and a password. You just need to pick a username to start using the app. You can share pictures, videos, gifs, games, and more.
KIK is a free-messaging-app for Android and iOS.
These WhatsApp alternatives are worth a try. Most WhatsApp users are comfortable using the app and are hesitant to move out of their comfort zone in spite of being unhappy with the app. There are many more alternatives available, choose wisely so that it is exactly what you were looking for.
Should you have any question on this topic, please feel free to ask in the comments section. Our reader community and we at TechWelkin will try to assist you. Thank you for using TechWelkin!